Can GM Get Pickup Drivers to Pick a V-6? Dealers Think Not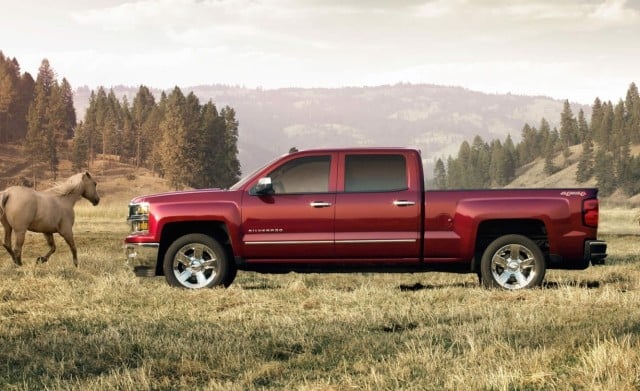 General Motors (NYSE:GM) is offering incentives to dealers on its new V-6 Chevrolet Silverado pickups, giving a $3,000 credit to dealers who use the vehicles in their rental or loaner fleets as GM looks to challenge rival Ford (NYSE:F) and the dominance of its F-Series pickups, according to Automotive News.
But, according to dealers, the V-6 engine will still be a tough sell, as many pickup drivers have the attitude that nothing but a V-8 can provide enough power for the vehicles. GM wants to convince drivers with that mindset that its new V-6 engine — which has 285 horsepower and 305 pounds-feet of torque — is a significant improvement from the V-6 engine on the 2013 Silverado and provides as much power as most V-8 engines will giving better fuel economy.
The problem GM faces is getting people into the V-6 models in the first place, as many pickup aficionados aren't open to even trying one. GM has said that at recent Chevrolet dealer events the company has given drivers a V-6 model to test drive while letting the driver think it's a V-8, and drivers are often hard-pressed to tell the difference.
"The new V-6 has plenty of power. It's not tremendously different than the V-8," says Mike Shook, general manager of Lewis Chevrolet-Cadillac in Garden City, Kansas to Automotive News. "But it takes a real salesman to get somebody into one." Overall, dealers who spoke to Automotive News about the V-6 Silverado had a similar viewpoint; this engine is great, but it's not what pickup drivers want.
Dealers also said that Chevy's 4.3-liter EcoTec3 V-6 doesn't have the same brand-related appeal that Ford's 3.5-liter EcoBoost V-6 does. Ford is planning to roll out eight new F-Series models for 2014, the biggest F-Series lineup ever. Even though GM's new line of 2014 Silverado and GMC Sierra pickups get much better fuel efficiency than previous models, Ford's F-Series is still outselling GM's trucks. In September, GM sold 32,506 Chevy Silverados, an 11 percent drop from September 2012. Ford sold 60,456 of its F-Series trucks in the same month.
It seems unlikely that GM, which is not as highly trusted in the pickup world as Ford, will be able to get a significant number of pickup drivers to switch to its V-6 engine.
Follow Jacqueline on Twitter @Jacqui_WSCS
Don't Miss: How GM Paced the Auto Industry Through the Shutdown.