Can the Dodge Challenger Wrestle America's Muscle Car Kings?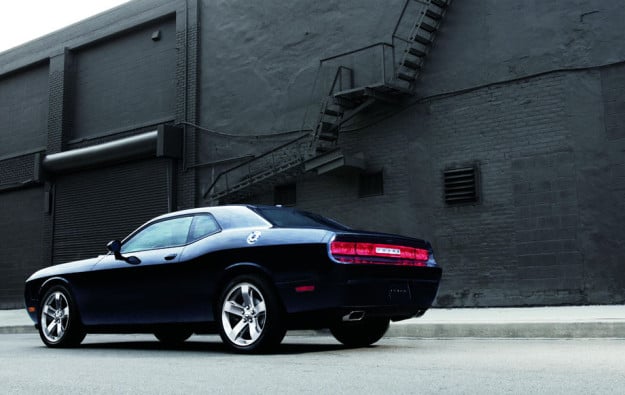 Several years ago, American car manufacturers set about launching a trend of bringing back the heyday of U.S. motoring — the generation of muscle cars, a formula of raw power coupled to the rear wheels for a relatively low price.
While Ford's (NYSE:F) Mustang and the Chevrolet's (NYSE:GM) Camaro have seen numerous vehicles come and go between the time they were introduced and now, the vintage cars received a full revival, with redesigns remarkably reminiscent of the original generations. Gone were the sleeker bodies that evolved through the 80′s and the 90′s, and back were the larger hindquarters and boxy structures that were synonymous with the original muscle cars.
The redesigns were a huge hit, and Mustangs and Camaros began selling in huge numbers — so much so that Dodge also revived its retro take on the Challenger, which is now being met by comparable success to the other two nameplates.
The retro formula is clearly working. In a list of sports cars priced at $100,000 or less sold in April (with year-to-date figures as well), the three muscle revivalists occupy the first three spots. Heading the charge is the Camaro, which sold 7,949 units last month. The Mustang came in second with 7,751 models moved, and in third place was the Dodge Challenger, which sold 4,804 units.
Interestingly, the only one of the three to see any growth was the Challenger, which saw its sales increase by 17.1 percent. The Mustang slid 0.6 percent, while the Camaro dropped 17.4 percent over April of last year.
The Ford Mustang and Chevy Camaro spent 2012 fighting for the top spot, while the Challenger fell well behind the two, selling about half as many vehicles. However, the newest sales numbers possibly indicate that the Challenger is indeed challenging the undisputed kings of American pavement. Dodge sold 20 percent more in the month of December than the December previous, lending testament to the argument that the model is on an upward swing in its efforts to knock the Mustang and Camaro off the perch.
The Dodge is the most expensive vehicle of the lot, with a base price of around $25,000, while both the Mustang and the Camaro hover around the $22,000-$23,000 mark. Power-wise, the Camaro produces the most, with 323 horsepower versus the 305 found in the Mustang and Challenger. However, since most of the statistics on the three cars are comparable at a base level, consumer preference is the biggest factor in the buying decision.
Regardless of which model buyers choose, the numbers reflect that American sports cars are here to stay. The first foreign car on the list, the Audi A5, ranks in fourth behind the Dodge, but with significantly fewer sales (1,809 to be exact), signaling that the muscle car revivalists are in a league of their own.
Don't Miss: First-Time Car Buyers, Ford Is Looking at You