Chevrolet Opens the Tap on Heavy Promotions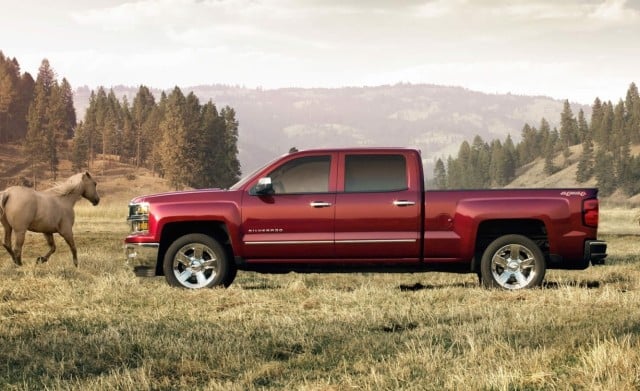 If you've been interested in buying a Chevrolet (NYSE:GM) Silverado but haven't found the right time to do so, March might just be your month to take action. For the month — the second in a row — General Motors will be aggressively promoting its line of pickups.
Consumers will be able to score a truck for the cost that employees of GM's suppliers can obtain, which equals the dealer invoice price, destination charges, and a $150 program fee. Automotive News reports that this round of incentives appears to be one of the most aggressive yet for the 2014 year models, and the sale extends to Chevy's heavy-duty Silverados, as well.
Swollen inventory levels have to be balanced with profit concerns, as incentives cut into the company's margins and can hurt the resale value of the vehicles down the road. Chevy's promotional efforts also come at a time of great competition with Ford and Ram, all of which are fighting for sales of America's best-selling segment of vehicle.
If you're not looking at a truck, fair enough, but Chevy isn't about to lose those customers. The Silverado sale will run alongside the Chevy Open House Event, which also offers supplier pricing — or less — on all 2014 cars except the Corvette and SS sports sedan, according to Automotive News.
General Motors described the sale as an "unprecedented promotional assault," and in its summary, the company points to how a two-wheel-drive double cab Silverado 1500 in the All-Star Edition package, which usually retails for $37,520, can be had for $30,828 after applying the March discounts.
Dealers have the choice of whether to participate, and those that do are encouraged to tie the sale into local events and host gatherings within the dealerships. Buick and GMC will also be participating in the Open House event but not the truck sale, Automotive News said.
As for the concerns about profits, GM's executives are arguing that the decision is helping to defend the company's truck market share, citing the higher prices that the pickups are bringing in as proof that the strategy is working. The average transaction prices in recent months have run $4,000 to $5,000 higher than year-earlier transaction prices on the previous-generation truck, Automotive News reports.
More from Wall St. Cheat Sheet: