Chevrolet's Corvette Z06 Is Aimed At the Gold Standard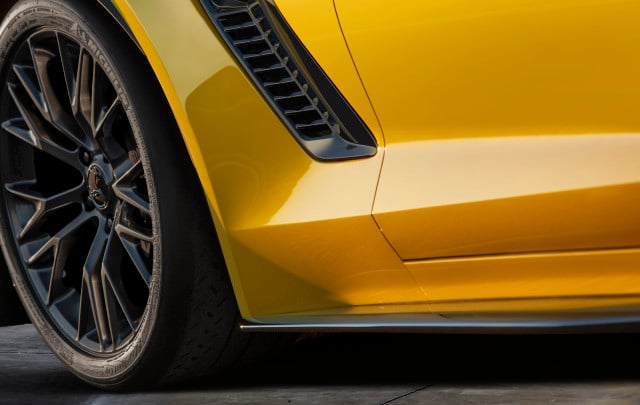 With the next iteration of the new Corvette bound for the Detroit Auto Show next month, General Motors (NYSE:GM) has shed a bit of light on what to expect from the harder-core version of Chevrolet's already juiced up performance car. Reportedly, Chevy is aiming at two industry heavyweights — the Nissan GT-R and the Porsche 911 Turbo — as its benchmarks for the new Z06.
Those are pretty lofty ambitions, to say the least. The Nissan GT-R — which sports about 545 horsepower from a twin-turbo V6 — has been lauded by just about every critic who gets their hands on it as being one of the best drivers cars on the market today, with figures that far outperform its price point (it falls around $100,000).
The Porsche, too, comes from a long legacy of vehicles that have often been used as performance gold standards. While the 911 is no slouch by any means, the 911 Turbo — and its nearly $150,000 price tag — delivers 525 horsepower from a twin-turbo flat-six, which can bring the car from a standstill to 60 in 3.2 seconds, and on to a top speed of 195.
"What we're seeing is a renaissance of the performance car industry," spokesperson Monte Doran said Thursday. "The performance sales for Chevrolet are right about where they were last year, and that's with us closing the Corvette plant for six months." Chevrolet sold 75,552 Camaros and 14,286 Corvettes during the first 11 months of the year, while Porsche sold 9,614 911s and Nissan sold 1,158 GT-Rs. GM said that one out of four performance cars sold in the U.S. during that time was wearing a GM badge of some kind.
Given that the stock 2014 Corvette packs 455 horsepower to begin with, and the previous Z06 was hanging out around 505, bringing the pony count in-line with the Porsche and Nissan likely won't be an issue. Further, GM's engineering prowess has matured well enough that the Z06 will likely be able to carve up turns with the best of them as well. The biggest trick, though, will be to hold on to what has always made the Corvette a rather special car: offering competitor-busting performance at a price point that's far less.
"If the new Z06 improves on the old to the degree that the C7 has already improved on the C6, we're going to love this thing when it arrives," Graham Kozak of Autoweek, an affiliate of Automotive News, wrote on Wednesday.
Don't Miss: Ford Ka Will Join the Mustang and Edge Globally in 2015.