Could a Tesla Model S Drive Coast-to-Coast?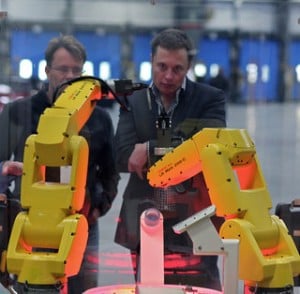 CEO Elon Musk took to Twitter early Tuesday morning and announced an event that has green activists everywhere abuzz at what Tesla Motors (NASDAQ:TSLA) has in store for its customers:

The Tweet is far from cryptic, stating that there will be a "live pack swap demo" on Thursday night. This interchangeable battery pack, if successful, will make the Tesla Model S roadster as easy to fuel up as a gas-powered car, completely evaporating the extended wait time it takes for Model S batteries to currently fuel up.
As TechCrunch points out, all a Model S driver will have to do is pull into a preexisting Tesla charger location, hand in their current Model S battery, and receive a new, fully charged one in exchange.
And its not as though these swappable battery packs are only available in future cars. The current Model S on the market has a built in swappable battery, making the upcoming demonstration on Thursday that much more intriguing. With a few carefully placed Tesla Charger locations, a Model S could conceivably go coast-to-coast without using any gas.
Taking a look at recent battery powered car sales figures is that much more encouraging for Tesla. Last May's U.S. sales of hybrids, battery-electric, and plug-in vehicles jumped 30 percent compared to May 2012. That's an increase of more than 60,000 cars.
Plug-in vehicle sales rose even faster, growing 69 percent to 5,694 vehicles. And that's not even including sales of the Model S, since Tesla only reports quarterly sales, not monthly. But the Model S sold an average of 1,600 units per month over the first quarter.
Nissan and Ford (NYSE:F) also performed strongly in sales of plug-in vehicles. Nissan's Leaf quadrupled its sales in the month of May from the year earlier, selling 2,138 vehicles. Ford increased sales of its C-Max models to 8,334 last month, more than 6 times what it sold in May 2012.
The future seems bright for plug-in cars, and if Tesla's swappable batteries are any indication it is only going to be better from here on out.
Don't Miss: Too Savvy, Too Soon? Ford Returns to Old-School Tech.