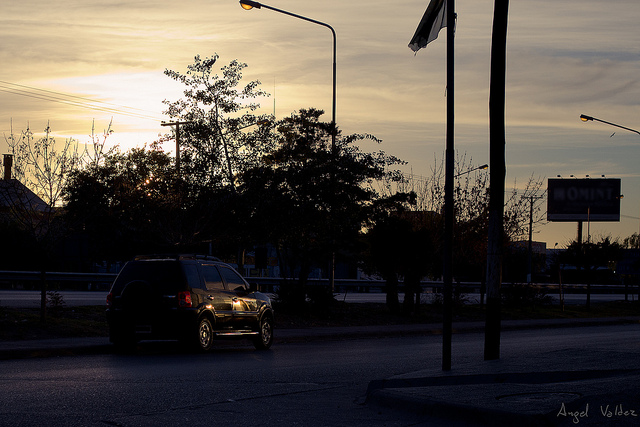 Terrible at parking? Ford Motor Co. (NYSE:F) might have your solution, because the U.S. automaker is showing off a new feature in Belgium on Wednesday that allows a car to park itself without a driver inside. According to The Detroit News, the new technology is being tested at the company's grounds in Belgium this week alongside an automated steering wheel, and while it is still not likely that a driverless car will hit American roads anytime soon, it still gives us something to look forward to, and it reflects the current direction of the innovative automotive industry.
The Detroit News reports that the Fully Assisted Parking Aid that Ford is showing off employs the use of ultrasonic sensors that recognize an open parallel, diagonal, or perpendicular parking space ahead while a car is driving up to 18 miles per hour. Once the vehicle detects the space, the driver of the car can then brake, shift to neutral, and press and hold the Fully Assisted Parking Aid button, which will activate the software that takes control of the steering, braking, and guidance, and maneuvers the car into the parking space.
In addition, if the driver of the vehicle would rather be outside of the car, he or she can get out of the car prior to parking and guide the process via remote control. The technology isn't the first time Ford has introduced a parking assist feature, but this new innovation, unlike its predecessor, doesn't require drivers to sit behind the wheel and keep a foot on the brake pedal.

It's evident that the Dearborn, Michigan-based automaker recognizes the demand for assisted parking. USA Today reports that Barb Samardzich, a Ford Europe vice president, said in a statement on Wednesday: "Parking in today's cities can be stressful and difficult. We want to make it as easy, efficient, and accurate as possible."
Another feature that Ford is showing off on Wednesday in Belgium is an obstacle avoidance system that uses three radars, ultrasonic sensors, and a camera to scan the road more than 650 miles ahead. The technology first issues warnings if it detects slow-moving or stationary objects in the same lane ahead, and if the driver fails to respond to audio alerts, the system automatically steers and brakes to avoid a collision.
Though cars that automatically brake when pedestrians are ahead are becoming more common, Ford's technology represents the first with the autonomy to steer the car out the way entirely.
Ford's two new systems are still in their testing stages, but they at least represent what's soon to come and also put pressure on Ford's rival automakers to quickly follow suit. Many car manufacturers are getting closer and closer to fully autonomous cars, but now the real question remains: Who will be first?
Don't Miss: 12 Rides That Made the Car of the Year Short List.