Detroit Trucks Are Pacing Brisk U.S. Auto Sales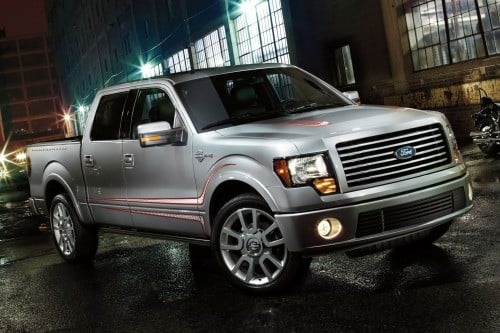 For Detroit's big automakers, reaching a pre-recession sales pace is finally within sight. Analysts are expecting June to be the best month for auto sales in the U.S. since December 2007, marking the end of a long journey back for Chrysler, GM (NYSE:GM), and Ford (NYSE:F). Large trucks are driving the advance as the fastest-growing segment of the industry.
The figures analysts believe will be reported for June will put the sales pace between 15.5 million and 15.7 vehicles for the year. At the top of that estimate is the highest number since December 2007, and June's figures are expected to show an 8 percent growth in sales overall. Dealerships across the country are easily beating sales numbers from this time last year, buoyed by the strength of pickup truck and SUV sales, which have risen due to an increase in construction work.
Trucks like the Ford F-150 and Ram 1500 are fueling the surge, leading analysts to believe big pickups could beat the two million mark in 2013 (another pre-recession benchmark). Large truck sales are growing at a rate of 21 percent, which is far larger than the auto industry as a whole. Competition in the pickup division is becoming intense among the three Detroit automakers.
The Ford F-150 is the best-selling vehicle in America. GM is answering with the 2014 Chevy Silverado and 2014 GMC Sierra, both redesigned and expected to be major wins for General Motors. Chrysler is scoring with its Ram trucks, which have gained 8 percent in market share after separating from Dodge in 2009. Ram is growing faster than any other truck brand in the U.S., but Chrysler has a 2014 model with a diesel engine up its sleeve.
The Ram 1500 for 2014 will be a light-duty pickup with a turbocharged diesel engine producing 240 hp with 420 foot-lbs. of torque. Chrysler is also coming out with 2500 and 3500 Rams that are gas-powered and feature a 6.4 L V-8 engine. These heavy-duty models generate the most horsepower in the segment. According to Ram's president, "The key to success in this business is product."
Detroit is showing the industry it believes those words, especially when it comes to trucks. The sales figures are bearing them out.
Don't Miss: Why Did Ford's Mulally Go to Capitol Hill to Tattle on Japan?