Elon Musk: Tesla Has a Big Announcement to Make…
Shares of Tesla Motors (NASDAQ:TSLA) rallied in late trading on Monday following a mysterious tweet from founder and CEO Elon Musk. Musk's message promised a "really exciting" announcement on behalf of the company on Thursday (although it was later bumped to next Tuesday, to avoid conflicting with "end of quarter distractions"), and that it would likely involve a big financial investment on his part.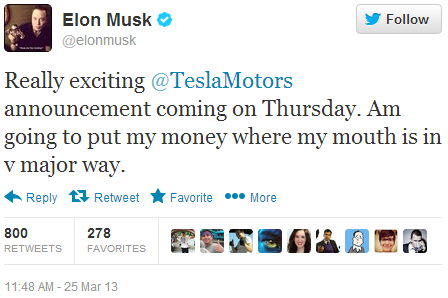 Tesla's share volume jumped to 2.4 million, exceeding its 30-day high of 2 million. Monday, the shares charged up 5 percent, and finished the day up 2.5 percent. Activity for the Twitter cashtag $TSLA was higher than normal, and stocktwits.com had TSLA as one of the most trending tickers in its chat rooms.
Although good news for TSLA shareholders, others took to Twitter wondering if the tweet was 'safe,' and if the SEC was going to looking into the statement as being a tactic to raise share prices.
Tesla's stock has been up and down, but has yet to break its glass ceiling of $40 per share. At 10:30 AM EST, shares were up 1.17 percent, at $37.97.
Tesla representatives could not be reached for comment.
Don't Miss: Ford Says Sorry for This Thoughtless Ad.