First-Time Car Buyers, Ford Is Looking at You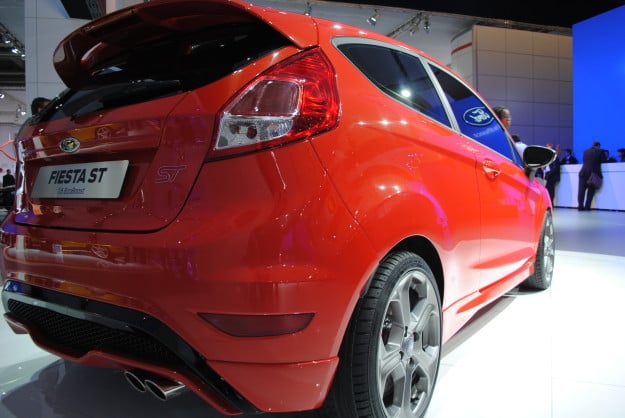 For automakers, making vehicles appealing to first-time buyers is essential; if the first car they purchase makes a good impression, then consumers are likely to buy another car from the brand, strengthening the company's bottom line and creating potentially life-long customers in the process.
Millennials — those Americans born from 1980 through 2000 — are now the key segment automakers are targeting. Ford in particular, has been successful in this area. The Dearborn, Michigan-based automaker introduced the first version of its Fiesta subcompact car to the United States market three years ago with the goal of boosting the company's entry-level offerings and reaching a younger consumer base. While the model continues to have a low sales volumes, the car has accomplished that objective. Since its release in 2011, the Fiesta has pushed Ford's millenial market share from 9 percent to 13 percent.
Six in 10 Fiesta buyers are first-time Ford customers, three in 10 are first-time car buyers, and one in four are millennials. Even better for the company, the Fiesta is Ford's third-best vehicle at luring customers from other brands, and most importantly, two in three Fiesta buyers stay with the Ford brand after their lease expires or they trade in for a new car. On the East and West coasts, regions where the automaker trails its competitors, the company makes half of all Fiesta sales.
"Fiesta is bringing in young buyers, those new to the Ford brand, that we wouldn't be able to reach otherwise," said Erich Merkle, Ford's U.S. sales analyst, told The Detroit News. "And it's also bringing in people from a different geography."
Of the roughly 67 percent of Fiesta buyers that choose to stay with Ford, typically the largest percentage of them chose the Escape compact SUV, the Focus compact car, or the Fusion midsize sedan.
Still, while these numbers look good, the Fiesta does not sell in high volumes. Following the redesign of the Focus for model year 2012, Fiesta sales dropped because the two vehicles had similar price points and powertrain options. Ford's Fiesta is proving long-term value to the brand, but just 57,000 of them were sold last year, compared to General Motors's (NYSE:GM) 81,000 Chevrolet Sonic sales and Hyundai's 61,000 Accent sales. However, ahead of its refresh for the 2014 model year, the vehicle has outsold the Accent so far this year.
For the model year 2014, a sport-performance variation, with a 1.6-liter EcoBoost engine, will be released. Ford will also add a 1-liter, three-cylinder engine, making Fiestas equipped with that engine will be the most fuel-efficient cars with a gas engine in the country, according to Ford.
Don't Miss: Corvette Stingray: Affordable For the Average Sports Car Enthusiast?
You can follow Meghan on Twitter (@MFoley_WSCS) for the latest industry news.