For the Chevy Silverado Cheyenne Concept, Less Is More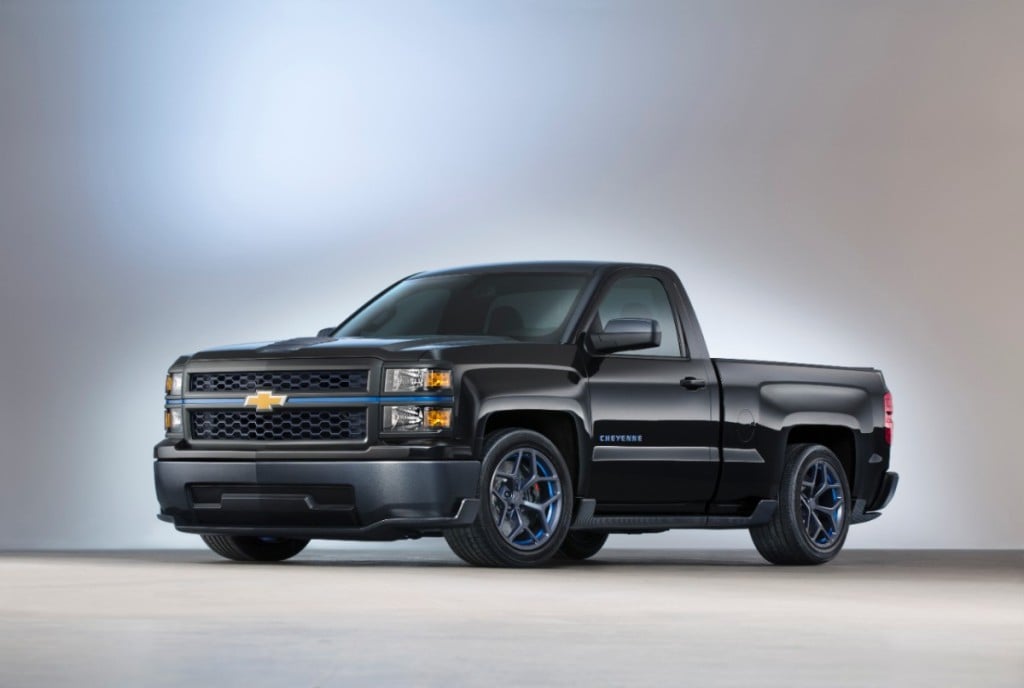 With the Specialty Equipment Market Association Show (more commonly referred to as SEMA) in Las Vegas now underway, manufacturers of every kind will be bringing loaded versions of their vehicles to put on display. Ford (NYSE:F) has decidedly put its focus on some tuned hatchbacks, among the 57 cars or so that it will be showing off, but Chevrolet — among its smaller offerings like its totally fun-sounding Sonic RS – will be taking a slightly different approach, at least with the Silverado Cheyenne concept pictured above.
High performance trucks bred for the street — as opposed to actual work-oriented trucks — used to be a bigger thing than they are now, and Chevrolet seems to trying to bring back some of the magic. The Cheyenne — being revealed on Monday — boasts a carbon fiber bed to save weight, and will share numerous components with the upcoming Camaro Z/28, Detroit News reports.
Under the hood, Chevy shoehorned in the EcoTec3 6.2-liter V8 engine, and added an enhanced performance exhaust to help it reach 60 miles per hour from zero in about 5.3 seconds. Aside from being lowered, the suspension and brakes have been further tinkered with as well. "We think this is going to be a highly competitive performance truck," said Sandor Piszar, who is the director of strategy and planning for GM performance vehicles and motorsports.
Dave Ross, the design manager for Chevrolet performance and specialty vehicles, said that the Cheyenne concept uses a "as much lightweight componentry as we could come up with."
Whereas Ford took the off-road route with its beastly F-150 Raptor, the Cheyenne is meant to rule the asphalt, much like the Ford SVT Lightening of old, or the Ram SRT10. The stock Silverado regular cab with a 5.3-liter V8 engine and a 6-foot, 6-inch box dropped 200 pounds as a result of all the tinkering; carbon fiber was employed for the bumpers, tailgate, and inner cargo box, saving an "incredible amount of weight," Ross noted.
Brembo carbon ceramic brakes from the Camaro Z/28 and the same 19-inch aluminum wheels were thrown on as well. As much as the truck has, what it doesn't have is nearly as important: the trailer hitch, spare tire, center console, and other material have been done away with to save weight. "With the Cheyenne concept, we've taken the low-mass concept to a new level — with exciting results," Chris Perry, the vice president of Chevrolet marketing, said in a statement. "It is only a concept right now, but we are continually exploring new ways to give Silverado customers more."
Don't Miss: How GM Paced the Auto Industry Through the Shutdown.