Ford Adds F-150 to Its CNG Portfolio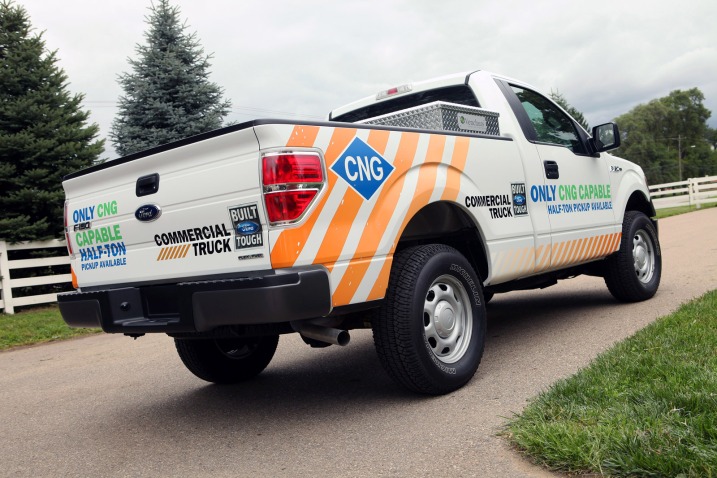 As if potential buyers of Ford's (NYSE:F) F-150 line didn't already have a wide enough variety of choices, the car maker is reportedly making adjustments to a select group of its 3.7-liter V6 engines to allow the trucks equipped with it to run on compressed natural gas, or CNG.
The CNG — as well as liquid petroleum gas, or LPG — options will be available for the 2014 model year and brings Ford's portfolio of CNG-power vehicles to eight. Additionally, the altered F-150 will be the only half-ton pickup on the market with the ability to run on natural gas. For $315 per vehicle, Ford will equip the optional engine, but the trucks won't be ready to run on the alternative fuels straight from the factory: the buyer will be responsible for outfitting the trucks with additional components after purchase.
Autoblog reports that a Ford Qualified Vehicle Modifier will install a separate fuel system for the compressed gases, which will run $7,500 to $9,500, depending on fuel tank size. With the right size tank, the F-150 equipped with the CNG- and LPG-capable engine can travel 750 miles on one tank of gas, according to Ford, and average 23 miles per gallon.
The alternative-fuel trucks will likely find a home among a fleet with a company that has the means to provide the natural gas support system to keep the vehicles running. Telecom giant AT&T (NYSE:T) already runs a CNG-powered fleet, and has recently purchased 650 F-350 chassis cabs with the CNG-prep option.
"We're almost halfway to our company-wide goal of deploying 15,000 alternative-fuel vehicles by the end of year 2018," Jerome Webber, AT&T's vice president of global fleet operations, said in a press release. "Vehicles such as CNG F-350s from Ford have helped us avoid purchasing 7.7 million gallons of gasoline over the past five years while reducing our fleet's emissions."
CNG can be bought for $2.11 per gallon on average (per gasoline equivalent) and sometimes for as little as $1 in some parts of the U.S., Ford points out. Meanwhile, the cost for conventional gasoline is pushing $3.66.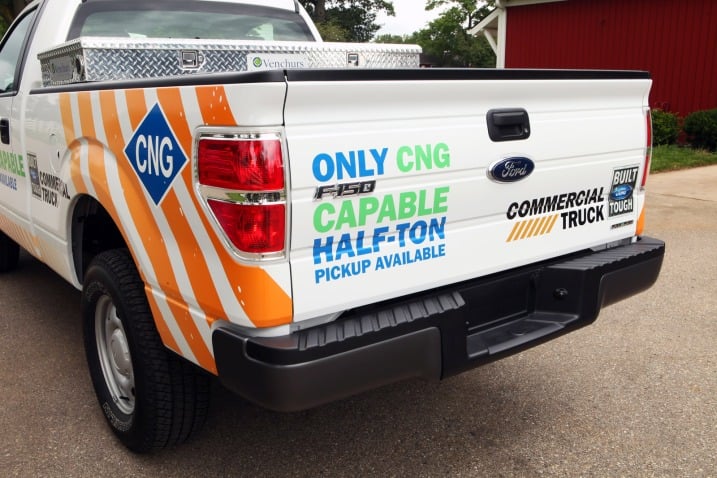 Jon Coleman, Ford's fleet sustainability and technology manager, weighed in as well. "With the money saved using CNG, customers could start to see payback on their investment in as little as 24 to 36 months," he told Autoblog. Ford is aiming to move 15,000 CNG vehicles during the 2014 model year.
As far as protecting your investment, Ford keeps the engine and powertrain limited warranty of five years or 60,000 miles while the modifier is responsible for the system component warranty.
Don't Miss: Ford Keeps Pushing Tech Envelope with This Move.