Ford and Chevy Raise the Stakes in the Heavy-Duty Game
The Wall St. Cheat Sheet, as well as our fellow media outlets, routinely cover light-duty pickup trucks and for good reason: the class is one of the best-selling segments in the automotive industry today. Ford's (NYSE:F) F-150 has been the best selling vehicle in the U.S. for a considerable period of time, while Chevrolet's (NYSE:GM) Silverado and Ram's 1500 are regular features in the top three and top five. While the light-duties have mass consumer appeal, there is another class of truck that doesn't get as much press time: the heavy-duty models.
Light-duty pickups are usually perfectly adequate for the 'average' driver, and even for an array of professions that demand large quantities of equipment and materials. Most trucks in this class are available with a slew of engine options to create a vehicle class that is as flexible and versatile as it is practical. However, for those who need to do some really serious hauling, the heavy-duties start to look more appealing, and for good reason.
Chevrolet just unveiled the updated heavy version of its trademark Silverado, so it now matches the recent facelift that GM has applied to the line. Buyers of the heavy units — the 2500HD and 3500HD — can choose between two engine choices: the 6.0 liter, gasoline-powered Vortec V8 that's good for 360 horsepower in the 2500HD and 322 horses in the 3500HD, paired with 380 pound-feet of torque for either.
If that doesn't suit your needs, the the 6.6-liter Duramax turbodiesel B20-capable V8, good for 397 horsepower and a planet-rotating 765 pound-feet of torque. "Though the max towing abilities of 23,200 pounds (with a fifth-wheel trailer) are less than the 30,000-pound rating of the new Ram," Autoblog reports, "the GM HD trucks offer better conventional trailer towing (19,600 pounds) and payload (7,374 pounds) than rival heavy-duty trucks — for now." On top of it all, the new Chevy looks like an absolute bruiser. However, Detroit-rival Ford is barely a step behind, and has made some tweaks to its own line of heavies.
Though Ford didn't redesign it's F-450 Super Duty like Chevrolet did — at least, not yet — the company did make some tweaks to it's high-end truck, namely, improvements to its Power Stroke diesel engine. "The turbocharged 6.7-liter Power Stroke V8 is currently rated at 400 horsepower and 800 pound-feet of torque, and Ford only tells us the new and improved Power Stroke can 'produce power beyond today's' engine," Autoblog reports. However, instead of relying on more cylinders, bigger displacement or ECU remapping (though that last one might have occurred regardless), Ford took a slightly different approach, as Autoblog explains.
"First, the Blue Oval swapped in a new, larger turbocharger. The new Garrett GT37 turbine unit is 72.5 millimeters in diameter, eclipsing the old GT32′s 64-mm diameter piece. Ford states output increases with the new turbo setup, but since the new turbocharger operates at a lower peak pressure than the old one, the automaker was able to eliminate the wastegate system and reduce the engine's complexity."
As a result, the company says that the updates make the Power Stroke more powerful, more robust, more efficient and more refined than before. While we don't doubt it, Ford has yet to release the new official horsepower and torque numbers.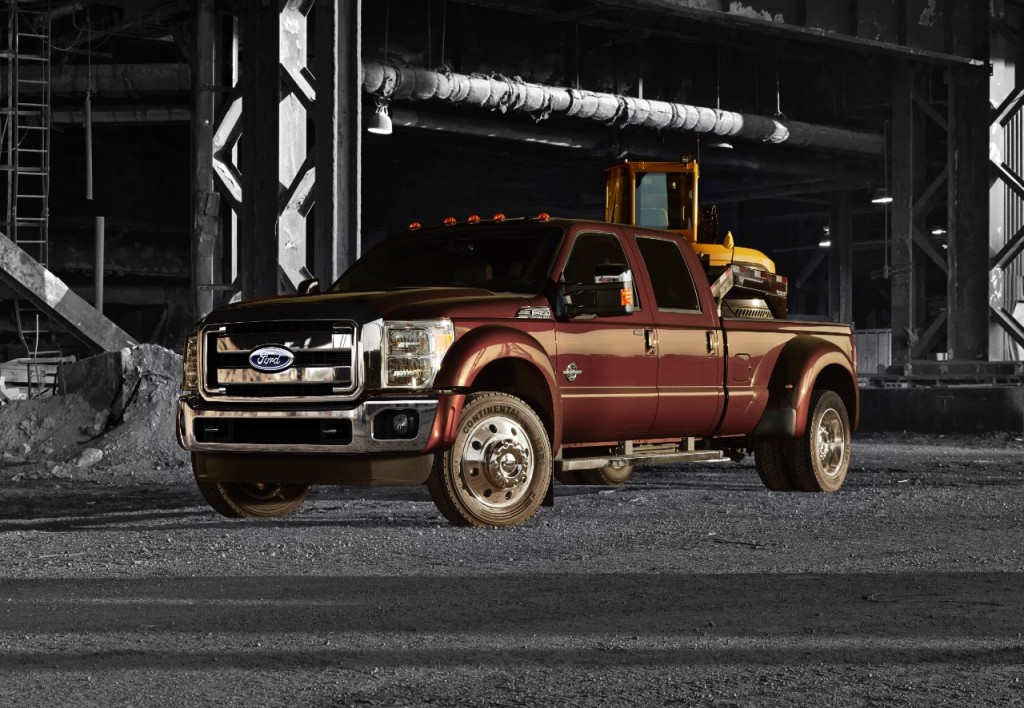 Ford has also made some changes to its King Ranch edition F-450. The "Running W" emblem that adorns King Ranch trucks has been refreshed for 2015, as the W is cut out and stitched into the seat backs and center console in a way that makes the emblem look branded, Autoblog says. Ford also adds that a "richer, lighter shade of Mesa leather" is used for the seats, center console lid, armrests and steering wheel, while the exterior gets a new, darker shade of Caribou paint for the wheel lips, bumpers and lower body.
Don't Miss: What Happens to a Tesla Car When it Crashes?