Ford Cuts Focus EV Price to Spark Sales
For a few months now, auto manufacturers have been cutting prices on their electric vehicles, sometime fairly dramatically, in order spur interest in the technology and put as many on the road as they can. Ford (NYSE:F) has become the latest company to do so, dropping the price of its Focus EV by a rather impressive $4,000, from $39,200 to $35,200.
Buyers have been slow to receive electric vehicles, putting manufacturers in a tough spot. While demand for EVs exists, the lack of infrastructure to support them, range concerns, and costs related to "bricking" have kept many buyers at arms' length. As a result, manufacturers are finding it harder to justify their production, and have lowered their prices to compensate.
Ford's decision to lower the price on the 2014 model year Focus EV comes roughly a month after the company pledged that it would not be chasing prices like its competition, which includes Nissan's Leaf and the Honda (NYSE:HMC) Fit EV. "We're not going to chase down to the lowest price possible — that doesn't make sense to erode the brand image or the true value of the product," Nancy Gioia, Ford's director of global electrification, said at the time.
"It's a price war," Karl Brauer, senior analyst at auto research firm Kelley Blue Book, said Wednesday in an interview with Detroit News. "Incentives have a certain amount of swing, but when people hear a price, that's what sticks."
Dropping the price bracket on electric vehicles seems to be doing the trick, as EVs — which have a reputation for being gratuitously pricey relative to their gasoline counterparts — are seeing their prices deflate to better match competitors sporting a more traditional internal combustion engine.
Through June, automakers sold 41,000 battery-electric cars in the United States. While this makes up a mere half-percent of all new cars and trucks sold, it does represent a staggering 385 percent increase over the same period last year, indicating that at the right price point, electric vehicles are indeed sought after.
While the Focus' new base price of $35,200 is still a  $6,000 or so premium over the Leaf, Ford said in a statement that the lower price "keeps us competitive in the marketplace." After accounting for the $7,500 federal tax credit, a customer can now buy a Focus EV for $27,700 — or even less, depending on policies in the state where the customer lives.
General Motors (NYSE:GM) has been facing similar issues with its Volt extended range vehicle, and its nearly $40,000 sticker price. Currently, the company is offering $4,000 off on select models, but it is expected that the company will follow suit and lower the price of the 2014 model.
GM's Chief Financial Officer, Dan Ammann, told The Detroit News this week that when technologies are first introduced, they are expensive. But as technology matures, he said, the cost typically comes down.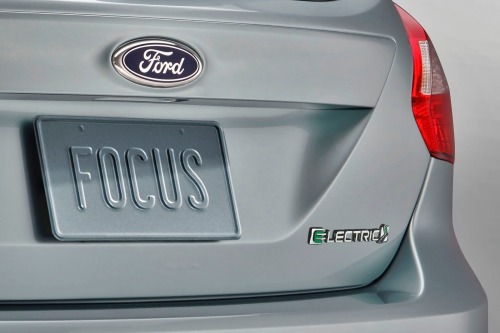 "From our perspective, it gets back to what is the customer willing to pay for, what's the value proposition that makes sense for them, making sure that we can deliver a vehicle whether it's in that segment or any other segment that gets to the value proposition that makes sense for the customer," Ammann said. "How electrification plays into broad-based consumer acceptance, I think that is still an unanswered question."
Here's how shares of Ford have traded in 2013: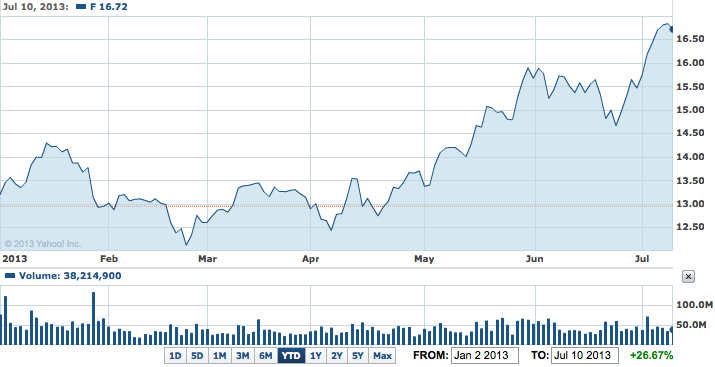 Don't Miss: Will America Get a Taste of Peugeot With GM's Help?