Ford Enters New Fuel Dimension With CNG F-150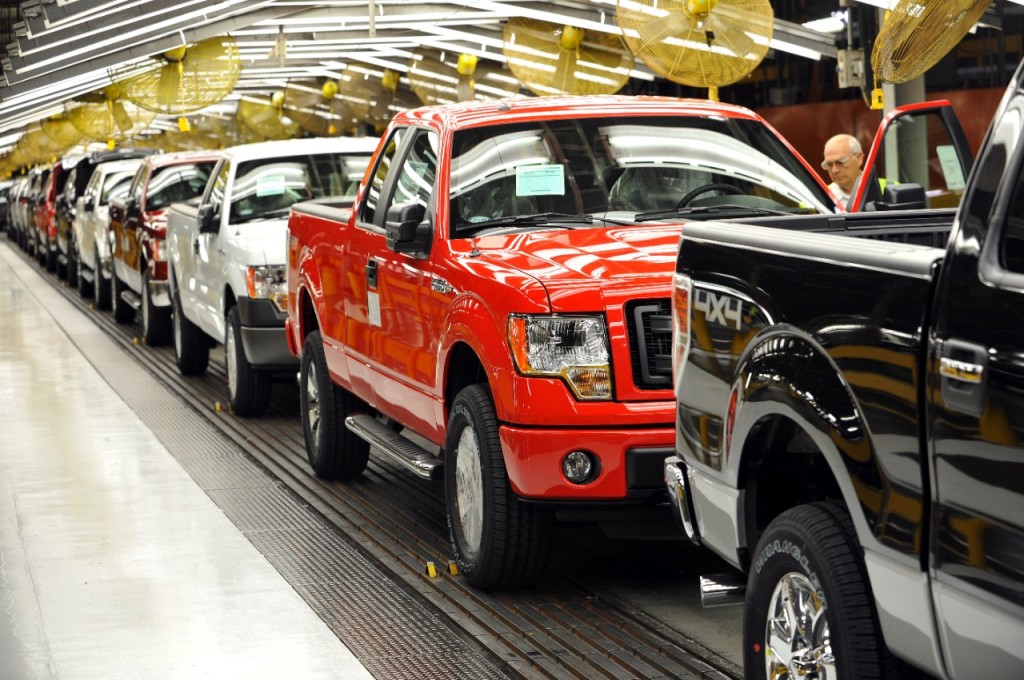 As the domestic natural gas boom continues to support the case for energy independence, automakers are pushing alternatives to gasoline. Both Ford (NYSE:F) and General Motors (NYSE:GM) are on track to launch influential CNG (compressed natural gas) vehicles next year. Ford announced Thursday that it had produced its first CNG-capable F-150 as it proposes ways to offer fleet owners a way to save on fueling.
The first 2014 Ford F-150 that is CNG and LPG (liquefied petroleum gas) capable was completed at a Kansas City factory line this week, according to a statement by the automaker. In the all-important pickup segment, Ford will have the only half-ton truck that can handle both CNG and LPG. The 3.7-liter V6 F-150 will come with an optional gaseous fuel-prep package that costs between $6,000 and $9,000.
The cost hike can be offset in several ways. Ford quoted gas prices near $3.30 per gallon across the U.S., while CNG sells for $2.10 per gallon. The automaker also notes that 20 different states will offer incentives for vehicle fleet owners in 2014. When switching to natural gas vehicles, fleet owners would have access to as much as $25,000 in rebates.
While Ford sees an opening for CNG in the pickup market, General Motors will do the same for its award-winning Chevy Impala.
GM announced in October that its 2015 Chevy Impala with CNG fuel capability will go on sale in summer 2014, giving the automaker the only full-size sedan with bi-fuel capacity on the market. The natural gas boom in the United States is helping the concept build steam, and the potential for lower emissions is drawing the attention of government agencies as well as environmental groups and the automakers' planning departments.
On the topic of sustainability, General Motors quoted the California Air Resources Board saying CNG vehicles can deliver the same performance as gasoline-powered automobiles with 20 percent fewer greenhouse emissions. Ford says the U.S. Environmental Protection Agency puts the number around 30 percent better than gasoline automobiles.
In either case, the top U.S. automakers see an opportunity in flagship vehicles powered by alternative fuels. Critics who say electric vehicles remain inadequate due to range concerns won't be able to play that card with CNG. The bi-fuel Impala will cover 500 miles, while the outfitted F-150 will be able to cover more than 750 miles before refueling.
Don't Miss: 6 New Diesel Cars Bound for 2014.