Ford Escape: This SUV Maker Is Reading Your Facebook Posts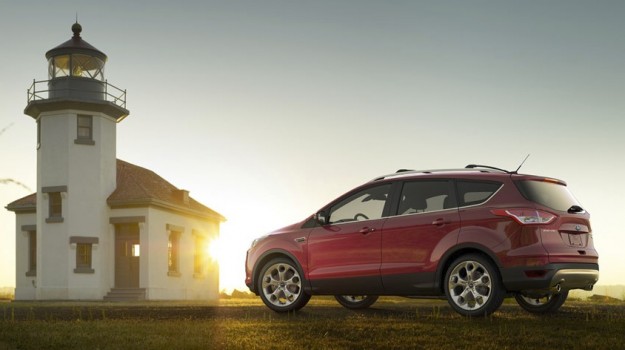 Automobile manufacturing has some fairly typical associations: assembly lines, manufacturing robots, and even performance simulations. But now, with technology playing a bigger and bigger role in everyday life, many automakers — including Ford (NYSE:F) — have begun using big data to guide all parts of the process, from design to production to dealership inventories. Automakers have worked to optimize supply chains and analyze sales data for decades, but recent developments in sensors and smartphones have given companies new opportunities and new ways to use data.
Already, General Motors (NYSE:GM) collects data from its OnStar system to help lower drivers' insurance premiums and gathers information from its Chevrolet Volt electric car to give the driver a sense of the vehicle's performance via a mobile app.
For Ford, advanced business modeling has long been part of its operations, but big data allows Ford to collect larger, more-diverse data sets than previously. The evidence of the success of the automaker's data-collection efforts is already evident in many places of its business, including the cars themselves. "Social media and the vast amount of online conversation is helping us get a faster and more specific data set to help us make product decisions," said Michael Cavaretta, Ford technical leader for predictive analytics and data mining, in a statement. We now use text-mining algorithms to formulate a more complete picture of what consumers want that is not available using traditional market research."
Earlier this month, Ford received the 2013 INFORMS Prize from the Institute for Operations Research and the Management Sciences, recognizing the company's "long-running, company-wide effort to use data science and predictive analytics to improve overall operations and performance." In a statement announcing the award, the company noted that "rigorous analytics" have played an important role in the resurgence of Ford in the past seven years.
Cavaretta noted in an interview with GigaOM that while there are privacy concerns created by such massive data collection, Ford is very interested in collecting more data from vehicles. Currently, its Energi line of plug-in hybrids produce 25 gigabytes of data per hour, which is then processed and given back to drivers through a mobile application, informing them about battery life, the nearest charging station and other data about the car's performance.
According to John Ginder, manager for systems analytics with Ford Research & Innovation, this system arose from a "convergence of need and opportunity." The opportunity was a means to experiment with collecting and exhibiting data to a group of drivers that was more interested in advanced technology. The need Ginder referred to was the "range anxiety" that drivers face when becoming accustomed to using electric vehicles.
Ford also analyzes social media data to get a better idea of what customers think about its vehicles compared with other manufacturers and what problems they have. The case cited by Ford in a recent press release was the design of the liftgate of the 2013 Ford Escape. To decide whether the sport-utility vehicle should have a standard liftgate — which opens manually — or a power liftgate, which allows the driver to tap under the rear bumper to open it automatically, Cavaretta and his team consulted social media. "The picture that emerged was a four-to-one preference for power liftgates that could open and close with the touch of a button," noted Cavaretta. "The result was a design that provided improved customer satisfaction while reducing manufacturing complexity and cost."
Don't Miss: Ford and GM Pump the Gas with These Moves.