Ford Explains Design Strategy and 2 Auto Stocks Going Places
Honda Motor (NYSE:HMC): Current price $39.10
On Thursday, Honda Motor told the transport ministry of Japan that it is recalling 145,573 of its Vamos, Vamos Hobio and Z cars because of an engine parts defect that could cause a fire,  said Japan Times. Vehicles in the recall are vehicles of those three models produced between October 1998 and August 2010. The recall iresponds to nine cases of fires that began around the vehicles' exhaust pipes between January 2009 and last June, according to the Ministry of Land, Infrastructure, Transport and Tourism, a rubber seal deteriorated, letting oil leak in some vehicles.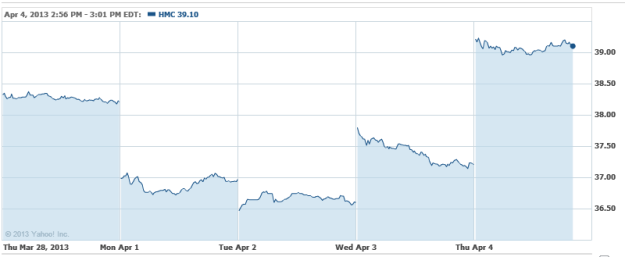 General Motors Company (NYSE:GM): Current price $27.71
GM, along with its intentions to invest $1.5 billion in North America in 2013, said that it will spend $332 million at four factories in preporation for new, more fuel efficient engines and transmissions, according to Bloomberg. In a Thursday statement, GM said that its present investments form a part of its endeavors to build a new V-6 and small engine called the Ecotec, which will feature three-and four-cylinder variants, and could reach an output of 2 million yearly by the decade's end. The spending is also connected with preparing for production of an eight-speed transmission to be used in GM vehicles by the end of 2016.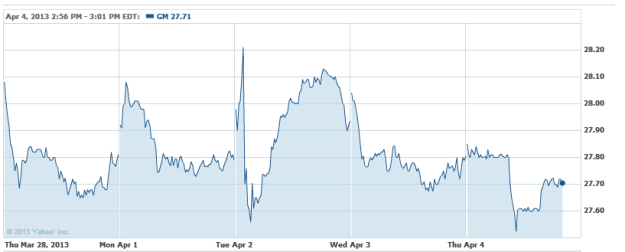 Ford Motor Company (NYSE:F): Current price $12.64
USA Today reports that Ford has released sketches that showed a few of the ideas, both the rejected or accepted, that comprised the design of the Atlas pickup truck. The Ford Atlas, which is an oversized version of the pickup that should be in the next F-150, was introduced in January by being lowered from the rafters of a Detroit hockey arena to the delight of hundreds. The final result was by a core team of eight designers, four exterior and four interior, who began sketching at the design studios in Dearborn. Some 50 sketches were produced for the exterior alone, and  were then displayed on a wall with the most extreme designs deemed to be acceptable at either end, according Design Chief Gordon Platto who remarked that "we created what we call a bandwidth. For a Ford brand vehicle, it needs to fall somewhere between."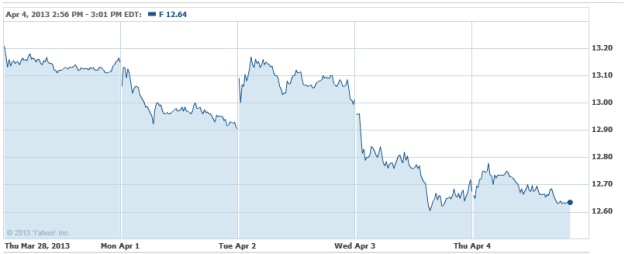 Don't Miss: Tesla's Model S: Is The Cheap Route Real?