Ford Finds its Fortunes in the Hybrid Market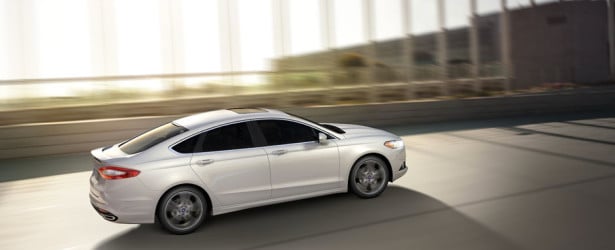 The vast expansion of Ford's (NYSE:F) hybrid lineup about a year ago — when it introduced three new hybrids and two plug-in hybrids — was a shot across the bow of the industry — notably Toyota (NYSE:TM), the reigning leader of the hybrid market — that Ford was seriously committing to the segment, which has seen substantial growth over the last few years.
However, Ford tripped up — albeit briefly — more recently, when it turned out that the EPA ratings on its C-Max hybrid were not exactly aligning with drivers' real world experience. While the C-Max was advertised as nailing an impressive 47 miles per gallon across the board, on real roads, drivers were reporting figures closer to 40. Ultimately, Ford bit the proverbial bullet and lowered its rating on the car.
But that wasn't before Ford managed to lift its share of the electric and hybrid market from 3 percent to 15 percent, Detroit News reports, adding that, "Ford also has been able to steal customers from its chief competitor, Toyota, which it has brazenly viewed as an equal competitor since before any of Ford's new hybrid vehicles hit dealer lots."
"I think in this case their bragging is well-founded," John O'Dell, senior editor at Edmunds.com, told the publication. "Ford is outselling everything but Prius by a good margin. And I think they've managed to escape fairly well from the C-Max fuel-economy rollback."
Detroit News further points out that during the 12-month period beginning last September, Ford is likely to have sold about 85,000 hybrids and electric vehicles. This is compared to about 22,000 that it moved during the year prior to that. The Ford Fusion hybrid is joined by the Lincoln equivalent, the MKZ hybrid, and the Fusion and C-Max Energi lines, which are extended-range plug-in hybrids. Ford also offers the all-electric Ford Focus.
"It's like going from last in the league to the second best selling hybrid brand in the country in one year," said Erich Merkle, Ford's U.S. sales analyst, told the publication. It's certainly an impressive feat, but as far as Ford has come, it still has a lot of ground to cover in order to knock Toyota off its high perch. After all, the latter has been in the game considerably longer.
Moreover, Toyota isn't exactly sitting still. In response to widespread criticism that the Prius isn't a very attractive car, nor is it very sporty (these are perhaps the most polite terms one can use), Toyota is going to lengths to ensure that the following generations of the car will feature even better mileage — on top of a more aesthetically pleasing appearance.
Even prior to Toyota's tweaks, the Japanese firm still leads Ford by a margin of about 4 to 1. This year, Ford has sold 61,306 hybrids through August, the most recent month for which data is available (at the time of writing). By comparison, Toyota has sold more than 236,000.
"If Ford wants to continue to make up ground on Toyota, it will have to continue to beat Toyota in design and fuel efficiency, and avoid costly mistakes like overstating mileage claims." Detroit News says. Though the design hasn't been much of a problem (its new Fusion is proof of that), the efficiency aspect is the really crucial piece to doing well in the hybrid game.
Don't Miss: Surprise! Norway's Best-Selling Car Is the Tesla Model S.