Ford Fusion: The American Hybrid Love Story Continues
Motorists are paying the cheapest springtime gasoline prices in three years, and gasoline prices are expected to continue dropping into the summer. While falling prices have put a crimp in the sales of Toyota's (NYSE:TM) Prius hybrids, sales of the Ford (NYSE:F) Fusion have skyrocketed, indicating that American drivers may be continuing a love affair with the Dearborn Michigan-based automaker's hybrid vehicles.
Ford's challenge of Toyota's dominance in gasoline-electric vehicles has begun to pay off; the company has said it will pass its full-year record for hybrid sales in the United States in May, propelled forward by strong demand for its Fusion and C-Max models. For the month of April, hybrid deliveries hit 8,481 — a monthly record — bringing this year's total sales to 29,561, according to Erich Merkle, a U.S sales analysts at Ford.
Currently, Ford's annual sales record stands at 35,496, which was reached in 2010.
In order to effectively take on the Prius, under the leadership of Chief Executive Alan Mulally, Ford has developed new C-Max hybrids and electric versions of its redesigned Fusion sedan. Beyond Ford's target of outselling the Prius — which has dominated hybrid sales since the early 2000s — the automaker is looking to complement its strength in pickups and utility vehicles with smaller and more fuel-efficient cars.
"We're turning, conquesting and growing our sales the fastest in the largest hybrid markets in the country," Merkle told Bloomberg Thursday. Sales of hybrid Fusions passed those of the Camry hybrid in April, he added. In fact, Ford's share of the U.S. hybrid market rose to 18 percent last month, an increase from last year's 3 percent. Only Toyota, with a 58 percent shares, has corned more of the market. Ford's hybrids have even been outselling General Motors' (NYSE:GM) hybrids in the U.S. since late 2012.
For the Fusion alone, deliveries increased 24 percent to 3,989 in April, according to researcher Autodata. In comparison, sales of Toyota's Camry hybrid decreased by 26 percent to 3,257. On May 1, Toyota reported that U.S. deliveries of its Prius hybrids fell 21 percent to 19,889 during April and declined 12 percent to 75,613 this year. The company sold 236,659 Prius cars in the U.S. last year.
Toyota's North American Chief Executive Officer, Jim Lentz, said last month that lower gasoline prices in the United States had curbed demand for the Prius. Now, Toyota may not meet its U.S. sales target for the vehicle, which was set at 250,000. "It'll be a challenge," Lentz said in an April 19 interview with Bloomberg regarding the sales goal. "We'll continue to push Prius and Prius family, but if it ends up that demand is less than the sales forecast, that may be adjusted," he added.
Ford's North American unit generated record profits, posting its best quarter in more than a decade. With a 15 percent increase in first quarter-profit, the company showed that its efforts over the past 18 months to expand its vehicle lineup, which includes the redesigned Ford Fusion, had paid off. In the U.S., vehicles such as the Fiesta, Focus, Fusion, and Escape helped the company's sales increase 11 percent during the first quarter. Because of their success, the automaker has grouped these vehicles into what it has termed the "supersegment," a category that it has said is the fastest-growing in the industry. While this segment has pulled down the company's margins, as Barclays analyst Brian Johnson wrote in research note seen by The Detroit Press, "Ford prefers to reinvest in the product content rather than see margins run into the mid-teens."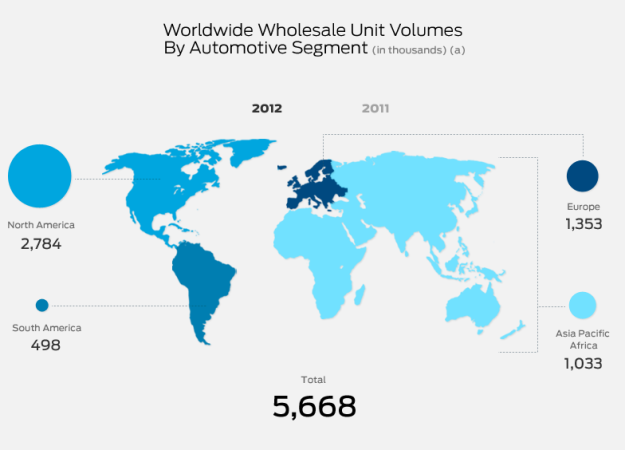 Here's how shares of Ford, Toyota and General Motors have traded in 2013:

Don't Miss: Ford Executive: Driverless Cars are Not Far Down the Road.