Ford Gets French Bailout for Plant that Pays 900 to Stand Around
Ford (NYSE:F) is investing $162 million in a plant in southern France thanks to a deal that sees local, French authorities give it $12.5 million. Currently, 1,200 workers are employed at the plant but only 300 are "actively employed" and actually do anything at work, report Reuters. Ford repurchased the plant in 2011 from HZ Holding — a German investment company — who it sold the plant to in 2009.
The plant employed 3,000 in the 1970s but that number has dropped over the years as car models the plant produces parts for have been retired by Ford. HZ Holding planned to produce windmill parts at the plant when the company owned it but their industrial partner pulled out of the deal. Under the deal with France, Ford will retool the plant to produce advanced gearboxes for cars in Europe.
In exchange for investing millions in Ford's plant upgrade, the workers there will be guaranteed their jobs for five years. The auto industry in France is cutting jobs in general. PSA Peugeot Citroen alone is cutting 8,000 jobs. French Industry Minister Arnaud Montebourg hailed the deal between France and Ford a success but warned he would strictly enforce its terms.
Keeping Ford in France is important to the county's automobile industry. France entered a recession in January 2013. The retooled Ford plant in France will export the transmissions the investment will enable it to produce. The country is the second largest economy in the Eurozone, second only to Germany.
Ford improved its U.S. sales by 20% in the first quarter of 2013 but is losing money in Europe, CNN Money reports. The company's losses in Europe have tripled over the past year. It makes sense for the automobile manufacturer to accept the financial investment of France.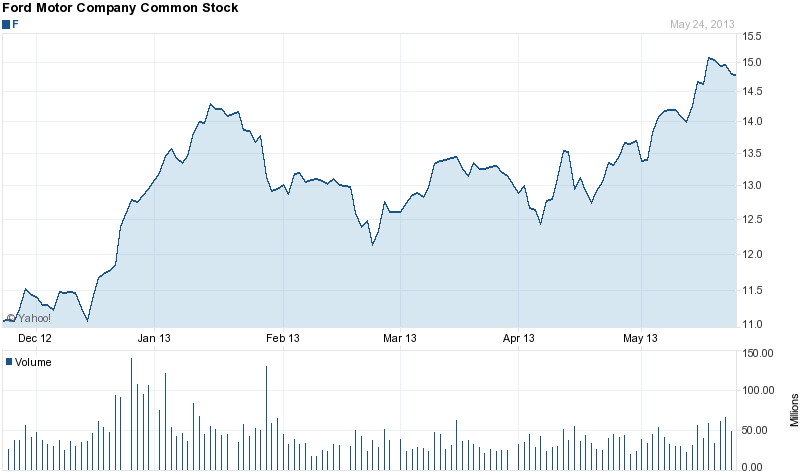 Graph courtesy of Yahoo! Finance
Investing Insights: Is General Motors the Great American Bailout Success Story?