Ford Hits 41 MPG with Best-in-Class 2014 Fiesta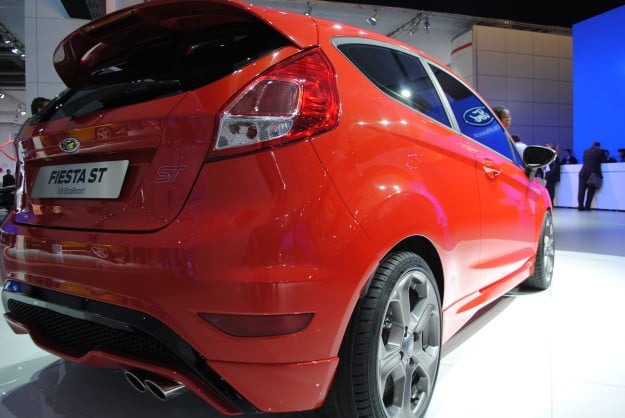 Ford (NYSE:F) wants the last word on fuel economy in the subcompact class. By making tweaks to the 2014 Fiesta SFE, Ford will push its redesigned model to the front of the pack in terms of mpg performance, outshining both GM (NYSE:GM) and Nissan's entries in the field and topping its previous estimate of 39 mpg.
Autoblog reports that the Fiesta SFE hatch will get 41 mpg on the highway following the adjustments and will be available later on this year. The car will feature a six-speed transmission for more precise shifting, a recalibrated engine controller and other tweaks in aero tuning to pull off the two-mpg bump. Previous estimates at 29 mpg city and 39 mpg highway were nice, but Ford comes out on top of the class with 41 mpg for the Fiesta. By comparison, the Chevy Sonic reaches 40 mpg, a figure matched by Nissan's Versa.
Ford's commitment to fuel economy is part of its strategy to attract more customers in the different compact divisions. The 1.0 L EcoBoost engine, which took the prize of International Engine of the Year for the second straight year, will not be featured in U.S. models until later this year, when it debuts in another Fiesta. Ford's decision to better the performance of this Fiesta before the EcoBoost models go on sale appears to reflect anticipation of a highly competitive summer.
Foreign automakers have been prepping for one of the most intense summer seasons in recent memory, in what is expected to be a better time for customers than automakers, who will need to win on volume. The big three of Ford, GM, and Toyota (NYSE:TM) will likely have to offer discounts and other incentives to stand out from the crowded pack of companies offering new and otherwise updated models performing at their highest levels to date.
Ford recently made news with its redesigned Fiesta ST, which is performing well in Europe with its 1.6 L EcoBoost engine that gets 35 mpg and lags slightly behind the Fiat 500 Abarth in combined mileage (the Fiat gets an average of 31 mpg to the ST's 29). Most encouraging for dealers in Europe is the fact customers are adding a lot of extras to Fiesta models, upping the margins on each sale. Ford will know soon if its investment in better fuel economy for its new models is paying off as expected.
Don't Miss: The Humble EcoBoost Drives Ford to Greatness.