Ford Is Adding Flair to the Hybrid Market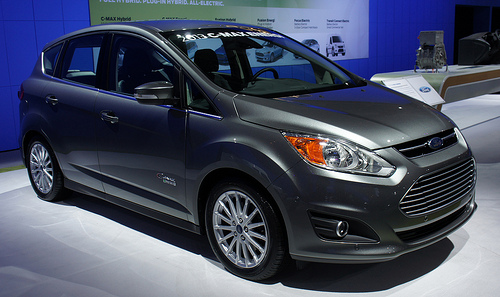 Toyota Motor Corp. (NYSE:TM) may still be ruling the hybrid world, but it shouldn't get too comfortable because another automaker is in town.
Toyota has long been known as the green car maker, holding a 66.7 percent share in the hybrid market and luring in drivers focused on fuel efficiency with its famous Prius vehicles. But now Ford Motor Co. (NYSE:F) has proven that it, too, can roll out its own successful hybrid vehicles, and it can do it with an added Ford flair.
The 2013 Ford C-Max Hybrid and 2013 Fusion Hybrid have both proven to be competitive in the hybrid market, holding their own at a total sale of 24,517 hybrids in May. Though this figure pales in comparison to Toyota's 141,849, it shows that Ford has the ability to compete, and drivers are willing to give other automakers a chance with hybrids. This is also evidenced by the recent changes in hybrid market share. While Ford has made significant gains from 2012 to 2013 — growing its share from 7.5 percent to 16.2 percent — Toyota has actually seen a decrease. The automaker held a 72.4 percent share in 2012, but is now down to 66.7 percent.
Ford is also having fun adding its own flair to the C-Max hybrid as it works to garner support for the vehicle. The car's appealing exterior reflects the U.S. automaker's focus on detail and pizzazz, and attracts drivers who are not only looking for cars with good fuel economy, but also a fun ride. Customers may have seen the C-Max featured in online ads called the Hybrid Games. There, the vehicle takes on the Prius in the hybrid war, reflecting the fight for its current 7 percent share in the market. Although Toyota's Prius models are still outselling the C-Max, the C-Max is still faring significantly better than its predecessor, the 2011 Escape Hybrid.
But despite the gains the C-Max has afforded Ford in the hybrid sphere, the vehicle still has much room for improvement — a reality evidenced by its last place finish in the JD Power Initial Quality Study that ranks cars based on the number of problems reported by consumers. According to Automotive News, the C-Max got only 37 mpg on its test regime reported by Consumer Reports, a figure far below the 47 mpg number Ford advertised. So although the vehicle has been able to duck under the radar for now, if Ford wants to continue its trend of success in the hybrid market, it'll need to focus more on the quality and fuel economy of its vehicles.
Still, despite Ford's recent hybrid lunge, Toyota has reported it doesn't feel the need to be concerned. A spokesman for Toyota Motor Sales U.S.A explains, "We have said specifically we hope the OEMs get into the hybrid business, and we'll be hybridizing every vehicle we sell. What we're seeing is a proliferation of hybrids. The reason you're seeing our market share go down is because more OEMs have decided hybrids are smart."
And the Prius's sales is evidence that Toyota is safe, at least for now. The three Prius models outsold the C-Max through May 15,629 to 14,969, illustrating a significant gap that Ford will need to continue to close. Still, the U.S. automaker will take what it can get for now, as it slowly works to hopefully oust Toyota from its hybrid throne.
Don't Miss: Manufacturing Outlook Darkens as Growth Slows.