Ford Lays Harley-Themed F-150 to Rest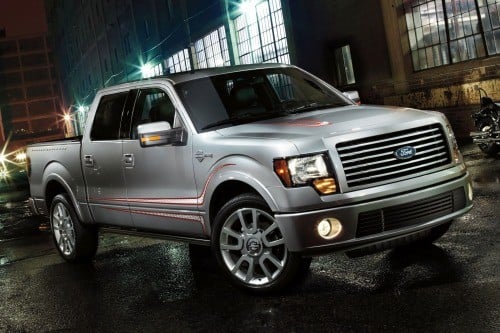 After a run of more than ten years, Ford (NYSE:F) has quietly announced the discontinuation of the Harley-Davidson (NYSE:HOG) edition of its ubiquitous F-150. The optional trim accounted for a mere 1 to 2 percent of total sales for the F-150 line and, additionally, Ford has been more aggressive in rolling out homegrown high-trim models, such as the Limited and Platinum.
Doug Scott, Ford's manager of truck marketing, was quoted as saying: "We don't have plans for one at the moment…we've got ten models including a brand-new Limited Model, which was new for 2013. We feel like we've got the market really well covered."
Given the success of homegrown trim levels such as the Limited, dealers are reportedly not terribly upset over the axing of the Harley edition, as the higher-end Ford trims have been comfortably surpassing expectations.
With the Platinum, King Ranch, and Raptor trims, Ford has been greatly expanding its high-end options for the F-150 as the truck market has surged this year. The new or refreshed trim options have helped cannibalize sales from the Harley model and furthered the decline in sales for the low-volume edition.
Beau Smith, chairman of the Ford National Dealer Council and co-owner of Sill-TerHar Motors, which operates Ford and Lincoln franchises in Broomfield, Colorado, confirmed that the Harley edition pickups made up only a small part of his volume.
"With the introduction of Platinum and Raptor, it was not a high-volume or high-turn vehicle for us. It won't be missed," he told Automotive News. Martin Gubbels, a Ford-Lincoln dealer from Torrington, Wyoming,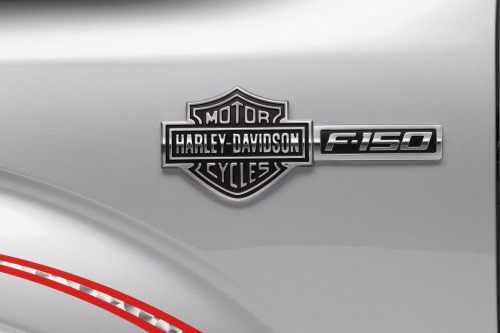 Another nail in the Harley's coffin was the removal of the supercharged V8 that was originally planted in the earlier versions of the truck. Borrowed from the Ford SVT Lightning, the power plant was good for 340 horsepower and 425lb-ft of torque — less than the Lightning that it was bred for, but still nothing to sneeze at. But the demise of the Lightning saw the demise of the 5.4 liter Triton V8, and the Harley F-150 had to make due with other options that were, albeit higher-end, no comparison for the heart of the Lightning.
Themed trim levels were — and to some degree, still are — a popular way for companies to offer something else that would help differentiate themselves from their competitors. Ram created a Detroit Red Wings Edition 1500 pickup, which was popular enough that the company is considering more sports team tie-ins with its models. However, more companies are finding that in-house trim levels are driving sales, making the need for third-party partnerships a relatively moot point.
Here's how shares of Ford and Harley-Davidson have traded in 2013:

Don't Miss: Has Tesla Hit Its Top Speed In 2013?