Ford Makes Gains on Toyota's Retail Pains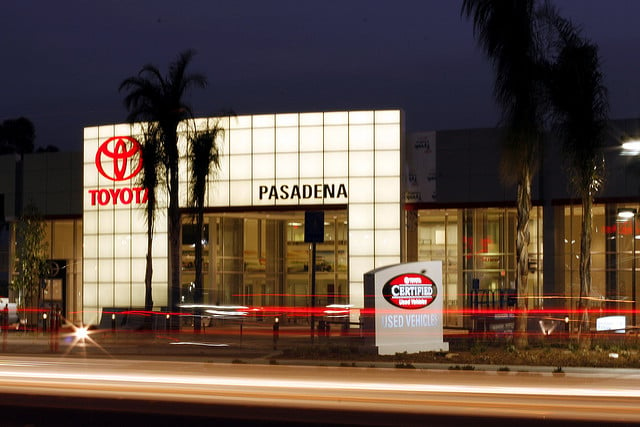 Though Toyota (NYSE:TM) led the domestic auto industry in retail sales last year, Ford (NYSE:F) is making rapid gains at Toyota's expense to close in, Bloomberg reports. Driving Ford's continued push is the Fusion sedan and Escape crossover SUV, both of which experienced tremendous a sales year in 2013. Further, Ford is expected to keep the pressure on for 2014.
Recalls, natural disasters, and stiffer competition have crimped Toyota's sales dominance over the past six or so years. At the same time, Ford's Ford One plan has been largely successful in turning Ford's cumbersome brand into a global force to be reckoned with. The combination of the two factors don't spell good things for the Japanese manufacturer, which has relied heavily on the sliding yen and heavy incentives to keep the inventories moving.
"Before 2010, Toyota's image was bulletproof, and while it is still strong, it's not rock solid and as perfect as it was before," Tom Libby, an auto analyst for IHS Automotive, told Bloomberg in an interview. "It now appears their march forward has been slowed."
Toyota's market share slowed from 16.3 percent in 2008 to 13.5 percent last year, according to Bloomberg's collection of vehicle registration data. The loss of 2.8 percent was matched by Ford's gain over the same period. While Toyota's Camry has long been the stalwart best-selling sedan, its empire is being compromised from all sides, but notably by Ford's Fusion, Subaru's Legacy, and Hyundai's Sonata.
Toyota's reputation was put under scrutiny after a recall of 10 million vehicles as a result of a probe into unintended acceleration issues. To make matters worse, a tsunami hit Japan in 2007, largely crippling — though temporarily –  the country's export-based companies, on which the Japanese economy depends.
"A fair number of people — I was among them — thought that after the recall situation and after the tsunami that Toyota would just resume where they were," Libby told Bloomberg. "Lo and behold, they have not."
Nonetheless, it is somewhat remarkable at how well Toyota has recovered since the setbacks. The Camry was still the No. 1 selling car in the U.S. last year, and Toyota is still the top manufacturer worldwide.
"Share doesn't pay the bills, sales do — that was and is our focus," Toyota spokesman Mike Michels told Bloomberg in an email. "Toyota recovered an enormous amount of volume after the recession and Tsunami/Thailand floods impacted periods."
To further combat the new threats, Toyota will be unveiling new versions of the Camry and Prius later this year. The Highlander, meant to go toe-to-toe with Ford's Escape, just hit showrooms last month, so it's still too early to see what kind of role it will play in Toyota's sales game.
"Vehicles like the Fusion, Escape, and our hybrids have provided us with a tremendous amount of retail sales and share gain, particularly in the coastal regions in the west and southeast, areas that typically have been dominated by Japanese automakers," Erich Merkle, Ford's sales analyst, told Bloomberg. He added that Ford brand's overall retail sales rose 14 percent in 2013, helped considerably by a 21 percent rise in the West and a 17 percent increase in the Southeast.
More From Wall St. Cheat Sheet: