Ford: Mulally Will Stay at Automaker Until End of 2014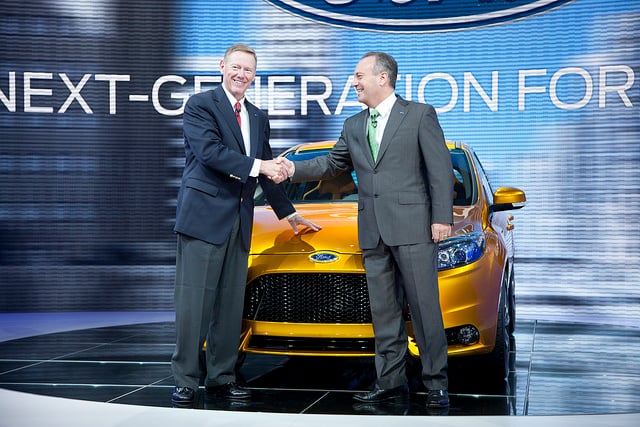 Many had already placed their bets on Ford (NYSE:F) CEO Alan Mulally taking over for Microsoft's (NASDAQ:MSFT) retiring Steve Ballmer, but unfortunately for them, it doesn't look as if Mulally is packing his bags just yet — or maybe ever. Ford board member Edsel Ford II spoke to Bloomberg Television on Thursday, saying that Mulally will stick with the automaker until the end of 2014. Ford II, the great-grandson of founder Henry Ford, responded to various speculations, asserting, "Alan is staying through the end of 2014, and that's all I know."
Though the U.S. auto company has made similar claims before, the most recent comment suggests that Mulally might not be taking over for Ballmer after all. The Microsoft CEO announced in August that he'd be leaving within the year, so if Mulally does stay at Ford until the end of 2014, he could be disqualified from taking the position. The Verge reports that Mulally has been careful to sidestep questions about his future, but he really could be staying at Ford if Microsoft is adamant about filling Ballmer's shoes within the one-year window.
In response to reports highlighting Ford's assertions, Microsoft shares spiked Thursday morning, down 4.01 percent at $37.41 as of 11:35 a.m. Eastern. The tech giant has enjoyed recent investor optimism thanks to rumors that Mulally is the leading candidate for CEO, but now that the Ford head may be taken out of the running, Microsoft could be back to square one in its search for a replacement.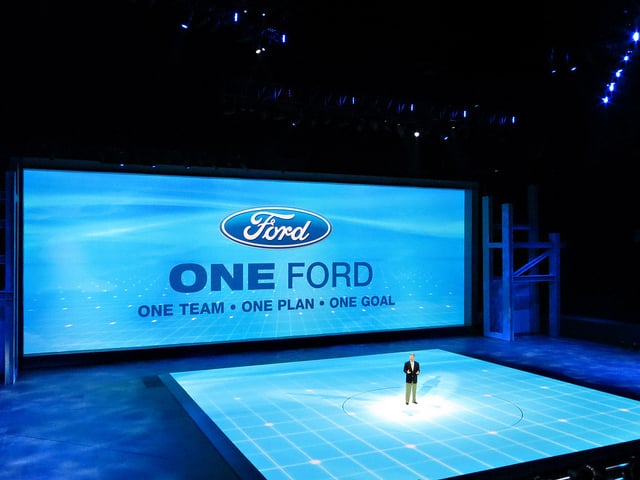 Mulally, 68, is considered an ideal CEO candidate for Microsoft because he has executive experience at Boeing Co. (NYSE:BA) and Ford (NYSE:F), and he also is familiar with orchestrating company turnarounds. Mulally guided Ford's ship as the U.S. auto giant combatted falling sales and profit on account of the 2008 financial crisis, and he has been lauded for his leadership in coordinating the Ford comeback.
According to The Verge, Ballmer has even asked for Mulally's help personally, back in July, when he was mapping out Microsoft's reorganization ideals. Ballmer and Mulally have been known to foster a close relationship, and it would make sense that the Microsoft CEO would be especially willing to hand over the reins to Mulally.
Despite the qualities that Mulally possesses, though, Ford has maintained that the CEO is staying until the end of 2014, and we have no reason not to believe Ford II. It's still as unclear as ever who will eventually take Microsoft's helm, but the other big-name contenders besides Mulally are Microsoft executives Satya Nadella and Tony Bates, as well as Stephen Elop, the former Nokia (NYSE:NKE) CEO.
Don't Miss: 9 New Luxury Rides Destined for 2014.