Ford: Rolling with Record First-Half Profit, But Not Stopping There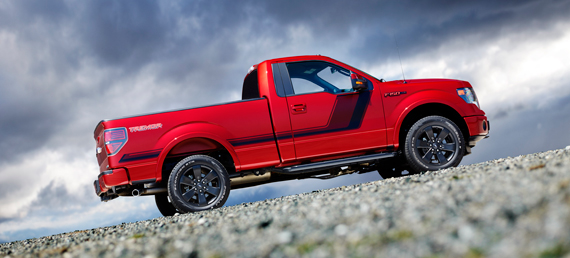 With all of General Motors's (NYSE:GM) good news this week, it's almost easy to forget about its little brother, Ford (NYSE:F). But don't count Ford out, because this U.S. automaker is creating its own mega comeback, and according to Peter Nesvold, an auto analyst for Jeffries Group LLC, the Dearborn, Michigan-based car manufacturer still has a lot more sales up its sleeve.
This is evidenced by Bloomberg's report that Ford has announced a rise in its outlook for this year's cash flow and automotive operating margin. The automaker raised its annual automotive operating margin to 5.3 percent, equal that of last year's total, and now forecasts a pretax profit equal to or more than last year's $8 billion.
The edit comes after the automaker reported Wednesday that its second-quarter net income totaled $1.23 billion, a figure contributed to Ford making $4.77 billion in the U.S. in the first six months of 2013. This is a record first-half profit for the second-largest U.S. automaker, and Ford is now ready to extend that success to Europe by way of a similiar restructuring initiative that CEO Alan Mulally successfully carried out in North America.
Europe has especially been a hard sell for Ford and many other automakers due to its contracting economy, but Ford's latest outlook edits illustrate the company's belief that it can stem losses in the region and also implement similar strategies that have proven successful in Ford's North America and China divisions.
Bloomberg reports the company reduced its loss forecast for Europe from $2 billion to $1.8 billion, growing the belief that the company can continue to expand its earnings drastically over the next two to three years as it continues to rebuild itself following its close run-in with bankruptcy.
For now, Ford is enjoying success in its home district, where its Fusion sedans and F-Series pickups are appearing in the garages of even the most fervent anti-domestic automaker drivers. These vehicles are increasingly populating the West and East Coast — regions where consumers have typically taken the Toyota (NYSE:TM) or Honda (NYSE:HMC) route — helping Ford post significant first-half victories. The automaker has already earned $2 billion or more in North America thanks to Americans' love for full-size pickup trucks and new small, fuel-efficient cars — but now, as Ford turns its attention to the growing demand in China, it'll need to ensure it can adapt to offer Chinese drivers exactly what they're looking for.
So far, the Ford Focus and Fusion have been successful in Asian markets, as well as in Europe. Ford won't stop there, though. It is planning on introducing 15 new vehicles in China by 2015 as it works to increase its footprint in a region that is now not only the world's largest auto market but also one of the most crowded thanks to GM, Toyota, and Volkswagen AG. 
Don't Miss: Chevy Impala Is Making GM's Good Day Better.