Ford Sales Rally in the Dog Days of Summer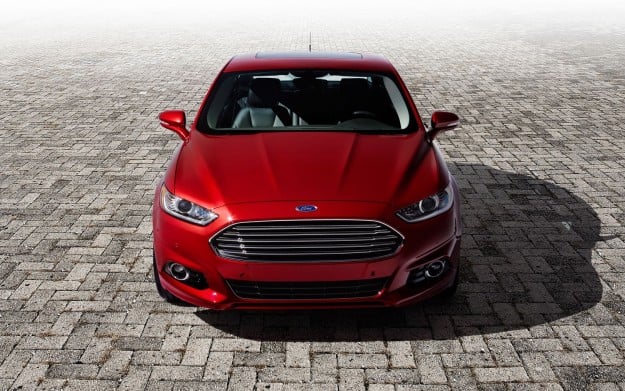 Ford Motor Co. (NYSE:F) had a strong end-of-summer sales spurt in August, evidence that the U.S. automaker's continuing recovery is far from over. Similar to General Motors (NYSE:GM), Ford made record gains during the dog days of summer, and on Wednesday, it reported its best sales month in seven years. The car manufacturer's sales rose 12 percent from the same month a year earlier, and enthusiastic buyers on the East and West Coasts especially helped attribute to those sales gains.
According to Automotive News, Ford's small cars and hybrids paved the way to August success, and, unsurprisingly, the Ford Fusion lead the way. The Dearborn, Michigan-based automaker sold 24,653 Fusions during the month, marking a 14 percent year-over-year gain, and a significant portion of those vehicles were snagged by consumers in the West. Retail sales rose 63 percent on that coast and further demonstrated the rising demand for Ford models in the region.
In addition to the Fusion, the Fiesta also saw a dramatic increase in sales. It came away as the car with the biggest gain, with sales up 61 percent to 6,744 units. This impressive figure helped contribute to an overall Ford car sales rise of 18 percent — and this is all despite the supply constraints Ford combatted early in August, as consumer demand exceeded the automaker's expectations.
Sales of Ford vehicles weren't the only things that soared in August. The company's crossover and pickup truck sales also topped the charts, showing the results of Ford's increased focus on its truck marketing this summer as both it and GM worked to roll out appealing pickups, take advantage of a recovering economy, and give truck-loving Americans something to get excited about.
Americans were indeed excited in August. Automotive News reported that sales of Ford's F series rose 22 percent to 71,115 units in the month alone, making the model the automaker's biggest seller in the trucks and crossover division. The Escape came next, selling 26,714 vehicles in August. Even despite that actually marking a decline since August 2012, when the Escape was especially hot, the unit still managed to top the charts that month for Ford.
Now, to adjust for rising consumer demand, Ford is reportedly adjusting its fourth-quarter production goals and has hiked up its production figure 7 percent from last year. It is hoping to build 785,000 vehicles by the end of 2013 and is confident its success will be able to sustain itself.
This time around, Ford will continue building popular models like the Fusion at more than one plant so it can sufficiently match inventory to demand. Ken Czubay, Ford's vice president of U.S. marketing, sales, and service, said to Automotive News: "We're confident our sales and share will grow. This will be particularly evident in the West and Southeast, where we have made significant gains."
Don't Miss: The 10 Hottest-Selling Cars and Trucks for August.