Ford Sells the Most and 2 Auto Stocks Going Places
Ford Motor Company (NYSE:F): Current price $12.88
Some new data from R.L. Polk & Company indicate that the Ford Focus was the number-one-selling automobile in the world overall in 2012. The compact model brought over 1 million sales last year, representing nearly 17 percent more volume than Toyota posted for its traditional sales leader, the compact Corolla model. Beyond that, Ford scored at the other extreme with its big F-Series pickups collectively ranking third on the worldwide sales list. All told, Ford placed three different models in the Top 10, including its sixth-ranked Fiesta subcompact.

Toyota Motor Corporation (NYSE:TM): Current price $107.83
Toyota announces a $3.5 million grant to The National Audubon Society through which to extend Toyota TogetherGreen, a national initiative that invests in emerging conservation leaders and pays for innovative community-based conservation projects across the United States. Toyota Together Green is now in its sixth year, and has engaged almost 370,000 people in conservation action thus far. This year, the initiative will continue to support fellowships, innovation grants, and the Exit the Highway digital campaign.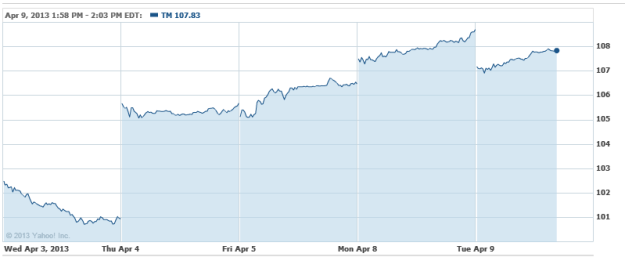 Tesla Motors (NASDAQ:TSLA): Current price $40.66
Mashable said that Elon Musk has responded to Sarah Palin's claim that his firm is a "loser." On Friday, Palin criticized Tesla in a Facebook post that lumped Tesla in with Fisker Automotive, which is a hybrid luxury sedan maker that got a $193 million low-interest loan from the federal government. Last week, Fisker said that it was laying off around 75 percent of its staff.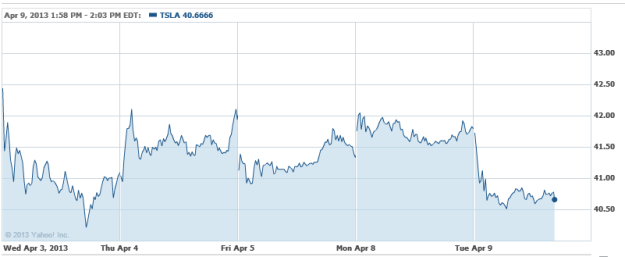 Don't Miss: Ford and GM Brag About This Weeks Car Sales Data.