Ford Takes the Lead for Plug-In Hybrid Sales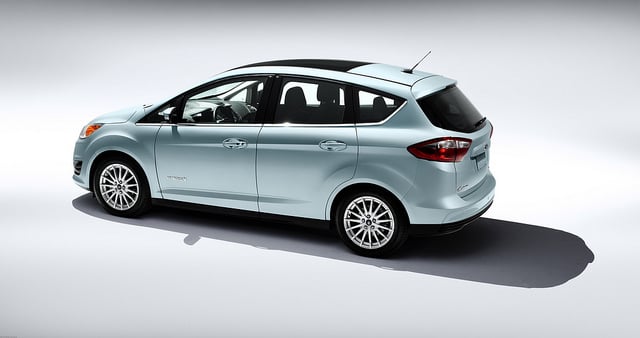 For the first time, Ford (NYSE:F) has outsold its competitors — on the plug-in hybrid front, that is. During the month of October, Ford moved a total of 2,179 Fusion and C-Max plug-in hybrids, which fall under the Energi label. Although a small drop in the large sea of auto sales, it was enough to beat Toyota's (NYSE:TM) 2,095 Prius plug-in sales, and General Motors' (NYSE:GM) 2,022 Volt sales.
Sales of the segment as a whole have reached 39,083 through October, a substantial increase from the 29,075 sold during the same period of 2012, according to data from automakers and the Electric Drive Transportation Association, Detroit News reports.
Despite the growth, however, plug-in sales still account for under 1 percent of all vehicle sales. Pickup trucks and more affordable conventional gasoline models continue to dominate the top ten sellers each month. The Fusion overall — hybrid models and otherwise — has seen substantial sales increases since its new, sleek form was introduced. Though it's flirted with monthly spots on the top ten, it has remained just outside while buyers still flock to the Japanese mainstays.
The C-Max hybrid experienced a fairly significant hiccup earlier this year, though it hasn't seemed to have hurt its appeal to a severe degree. Due to a loophole in the testing procedures used for calculating fuel economy, the C-Max was awarded the same 47-mile per gallon combined rating as the Fusion hybrid — in real life, though, that number fell significantly, and drivers were obtaining numbers closer to 43.
Though Ford made numerous efforts to bring the car up to speed, the less-aerodynamic model eventually had its rating cut to 43 combined miles per gallon. However, if any good came of the situation, it did put the EPA's standard protocols under the spotlight.
Ford has taken its hybrid division from being a small, supplemental part of the company and turned it into an industry-leading force that could bode exceptionally well for the company, provided that the current hybrid and EV trends seen now continue.
Don't Miss: Riding an Earnings High, Ford Turns to the Middle East and Africa.