Ford Turns to Social Media to Show Off Fiesta's Facelift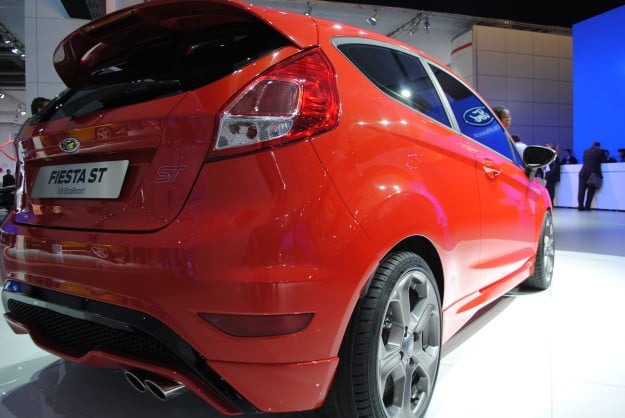 Ford Motor Co. (NYSE:F) is shaking up the party again, and it's relying on social media to help it get its new message across.
When Ford began marketing prep work in 2009 for the debut of its Ford Fiesta, it managed to stay on top of the times, turning to the computer instead of relying solely on television advertising efforts. It employed bloggers to connect with the Ford consumer base through social media, breaking new grounds in marketing and boosting the effectiveness of the company's campaign efforts.
And now that Ford is ready to give its Fiesta a facelift, the car manufacturer will revisit the 2009 Fiesta Movement and incorporate the vehicle's new fixings. The "midcycle makeover" is targeting performance-oriented buyers with new options for Ford's 1.6-liter turbocharged EcoBoost engine and 1-liter three-cylinder EcoBoost. The new, sleeker Fiesta will be priced at $14,795.

Ford hopes the extended Fiesta lineup will help attract those need-for-speed buyers not previously interested in the Fiesta, as well as help pave the way for new Fiesta models to follow in the future. Fiesta sales have been on a roller coaster ride since the vehicle's introduction in 2010.
Sales peaked in 2011 and then plummeted in 2012, due in part to other new vehicles Ford was rolling out. Still, Automotive News reports that Fiesta sales are up 22 percent for the year, and Ford is eager to perpetuate that success as it goes back to its Fiesta Movement roots and launches a new and improved social media campaign.
In its advertising effort, the automaker will take advantage of new social media opportunities as well as old ones that still prove just as effective. While the evolution of Instagram and Vine will undoubtedly be useful tools for marketing efforts, consumers, too, still rely significantly on blogs and other social media sites, allowing the automaker to continue employing them.

Ford will select their bloggers based on how many followers they can attest to, and those chosen will be asked to create videos of their Fiesta experiences — the results will then be posted on each of their respective social media sites. And while the bloggers won't get paid for their endorsements, they do get to keep the cars, as well as have their insurance and fuel paid for, making it an all-around sweet deal for both parties.
Television can't be counted out as an advertising platform, because it isn't considered so last season just yet. It'll play a lesser role than the one it did in the 2009 media campaign, but the new Ford Fiesta will still get tube time during "American Idol" segments and during ESPN's broadcast of the X Games.
Ford is confident its new Fiesta ST will hit the bulls-eye with its ability to appeal to consumers across the board. While the small vehicle is already reaping significant success on the West Coast, the automaker is hoping to extend those impressive sales numbers eastward.
Don't Miss: American Auto Industry: It's Time to Pay Lots of Attention.