Ford Uses Coke Innovation on This Green Fusion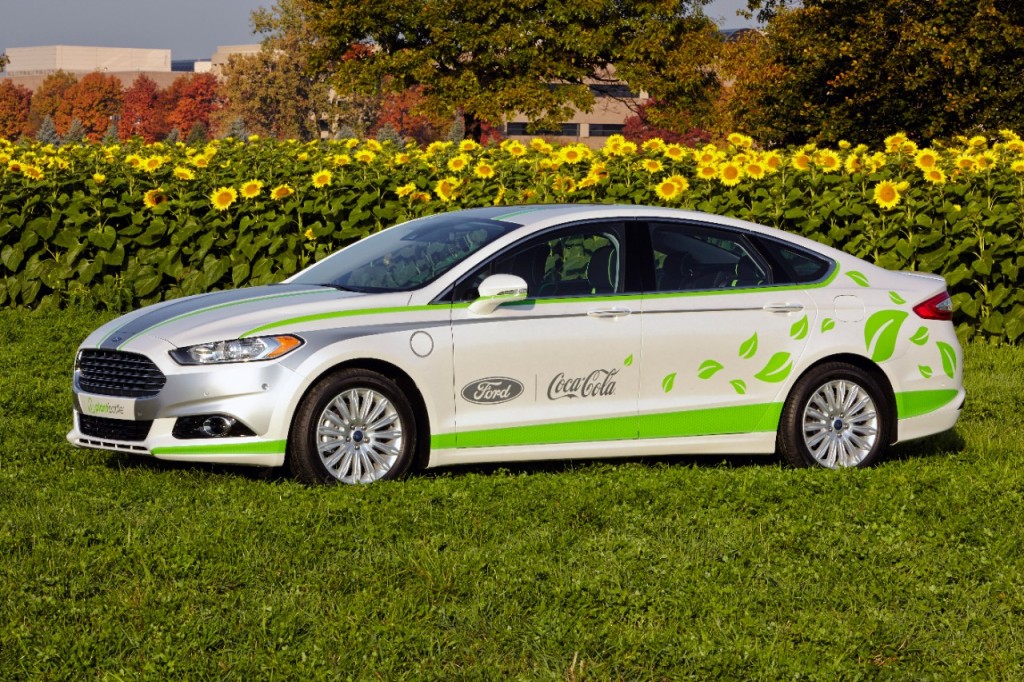 The Ford (NYSE:F) Fusion, the automaker's star midsize sedan, is getting a green makeover for the L.A. Auto Show. Already one of the greenest vehicles in the Ford lineup, the plug-in hybrid Fusion Energi will feature plant-sourced materials in its interior, supplied by Coca-Cola Co. (NYSE:KO), Ford said in a statement. As consumers expect automakers to address the problem of fossil fuel consumption, Ford is increasing its commitment to sustainable products.
Coca-Cola uses the PlantBottle Technology to limit the amount of petroleum needed to produce plastic bottles and packaging for its soft drinks. Ford utilized the same material in seat coverings and other interior fabric uses for the version of the Fusion Energi it will showcase at the L.A. Auto Show in the final week of November. The hybrid version of the popular Fusion is one of the few cars in Ford's lineup that operates in electric-only mode.
While the auto industry is clearly headed in a greener direction, sales of pickups still dominate the leader's board in the crucial U.S. market. Ford noted in a company statement that its efforts in green upgrades for its vehicles include the EcoBoost engine used in its F-150 line. Compared to the previous F-150 engine, Ford customers reportedly save more than 45 million gallons of gas. Though these efforts are laudable, Ford's global trends guru believes they are essential.
At ad:tech New York 2013, Ford's Sheryl Connelly highlighted 10 trends that will shape the world in the coming decades. Among them were the exploding global population and the corresponding limitations on mobility, something that Chairman Bill Ford believes is essential for the freedom and prosperity of people everywhere. Automakers and large corporations like Coca-Cola have to lead the charge by using more sustainable resources as production becomes more difficult and waste plagues businesses in the future.
"By using PlantBottle Technology in a plug-in hybrid, Ford and Coca-Cola are showing the broad potential to leverage renewable materials that help replace petroleum and other fossil fuels, reducing the overall environmental impact of future vehicles," said Ford sustinability chief John Viera in a statement.
Finding a way to use plant-based materials to produce seat coverings and bottles is a way for both companies to show a commitment to the future, which in turn draws in consumers alarmed at the status quo.  The Fusion Energi with the PlantBottle Technology interior will get its debut at the L.A. Auto Show on November 22.
Don't Miss: Ford Unleashes Its Globe-Conquering Ka.