Ford Wants iLuv Trademark and 2 Auto Stocks Going Places
Ford Motor Company (NYSE:F): Current price $12.72
Ford has filed an application to register the term "inflatable light urban vehicle" as a trademark, said the database of the United States Patent and Trademark Office, according to Bloomberg. The Ford Inside News blog implied that the iconic automaker could be thinking about making a foldable car or a small three-wheeled electric vehicle for crowded cities.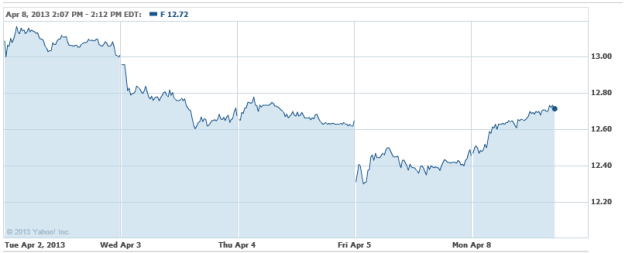 General Motors Company (NYSE:GM): Current price $27.48
On Monday, GM's Australian division said it was cutting 500 jobs, or about 12 percent of its workforce, citing pressure from the country's strong currency and intense rivalry in the local automobile market. The layoffs are another hit to Australia's manufacturing sector, impacting because a strong dollar makes it cheaper for local rivals, who use Australian dollars, to import competing products from overseas, while driving up costs for locally-sourced labor and equipment. Mike Devereux, the chief of GM's Holden division said in a statement that "Competition in the Australian market is just brutal."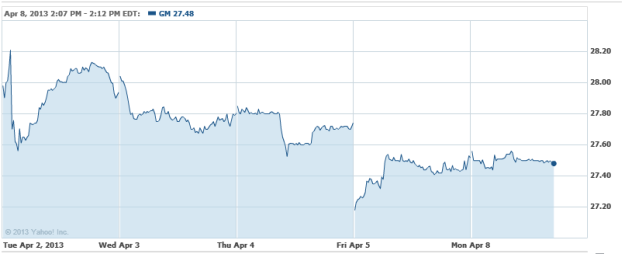 Honda Motor Co. (NYSE:HMC): Current price $39.11
Two concept vehicles from Honda and Acura were revealed on Monday prior to a world intro at the 2013 Shanghai Auto Show, according to Edmunds. On its website the firm says that its concept model "shows the direction of an all-new model Honda will be introducing to the Chinese market in the future."  In the design sketches of the vehicles, crossovers with long hoods, a narrow greenhouse and a chiseled rear end are shown. Honda did not give names for the vehicles or divulge specifications but the two will be unveiled on April 20.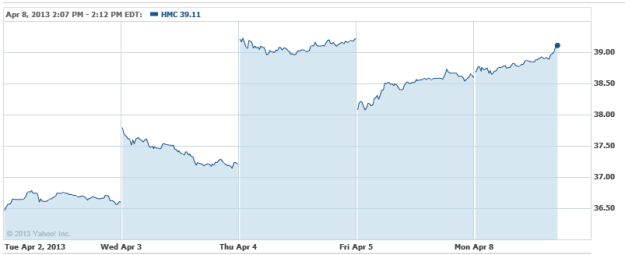 Don't Miss: Ford and GM Brag About This Weeks Car Sales Data.