Ford Wants No Hiccups With Mulally's Eventual Departure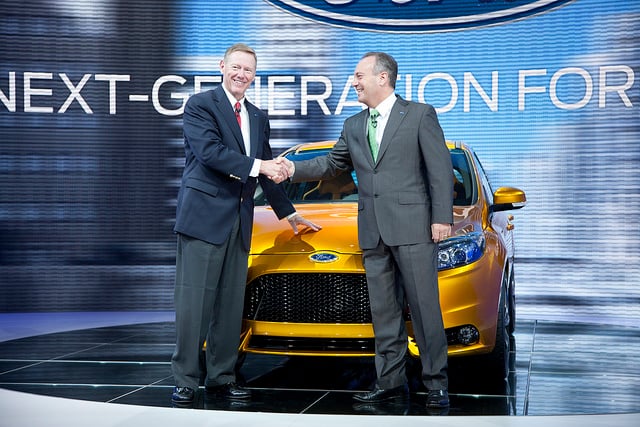 It's no secret that Ford (NYSE:F) CEO Alan Mulally is a leading candidate for the chief executive slot over at Microsoft (NASDAQ:MSFT), and Ford is well aware. Whether Mulally is awarded the position or not, it's reportedly unlikely that he will remain in Ford's top slot past next year, which means the automaker will have to find someone to fill his shoes — a daunting task, given how well the company has done under Mulally's command.
However, a group of longtime employees at Ford — dubbed "lifers" — are hoping that Mulally's inevitable exit will provide them with another chance, and that the management team that Mulally put together feels that his time to go is nearing. Ford's chief operating officer, Mark Fields, is widely regarded as the most probable replacement, Reuters reports.
"Collectively we have helped change the culture — it's not just relegated to one particular individual," Fields told reporters in September, per Reuters. "It's really about all of us looking to build on the things over the years that have made our culture so strong."
Mulally's "'One Ford' strategy connected Ford's once-disparate business units to achieve economies of scale and boost profit," Reuters says. "He also overhauled Ford's once-toxic culture to create one based on collaboration and disclosure."
With Mulally's departure, the lifers — those who have spent a significant amount of time working for Ford, possibly the majority of their careers — will be left with majority of control of the automaker. Jim Farley, Ford's global marketing chief, is the only management executive who came to the company after Mulally.
Regardless of who slips into Mulally's seat upon his departure, that person will have to carry on the work that has been started. Although Ford has made significant gains in many areas, struggles still exist, according to Reuters. Lincoln is still in the earliest of stages of becoming a leading contender on the luxury front, and Ford still trails its rivals in China, among other things.
Further, Ford's management team is determined to end the sort of flux that the CEO spot has been in, as there are no clear plans surrounding Mulally's replacement or even his own plans as to when he will step down. The rumors that Mulally might chase the Microsoft gig has also added to the confusion and complication of appointing a successor.
Overall, Mulally has brought Ford's previous culture of isolation and division to one of unification and cooperation, largely spurred by weekly meetings that consist of a full review of the entire business, with particular attention paid to the more troubled aspects.
"We spend a lot of time together," Chief Financial Officer Bob Shanks, who has been at Ford for 36 years, told Reuters. "You really can't hide in your room like I think the old days … (when) you rarely had to see people other than to go into the arena and joust."
While Mulally still attends these meetings, it's now Fields who is charged with running them, another indication the he is being groomed to one day take the reins of the company.
Don't Miss: 9 Top All-Wheel Drive Sedans.