Ford's F-150 Takes a Cue From the Military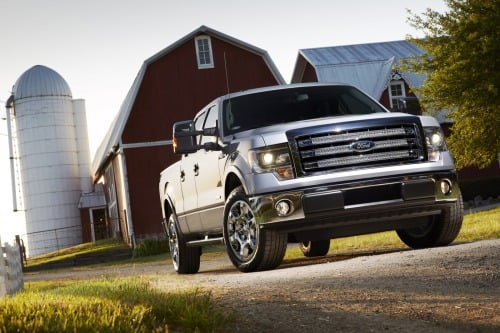 It seems that Ford's (NYSE:F) response to tightening fuel economy standards has been to take a cue from the military. The automakers' next-generation F-150, the classic Ford pickup that has driven the company's business for decades, will shed up to 750 pounds in its next incarnation, said Mark Fields, who is rumored to be the company's next CEO. That's a roughly 15 percent weight reduction from the current F-150 model, Bloomberg reports.
And the key to such significant weight loss? Aluminum. Considerably lighter than the steel currently used to build the truck, the switch will help the company meet new, rigid fuel economy standards but may cost Ford the favor of truck buyers. Ford will have to convince consumers who are devoted to the current steel F-150 that aluminum can be just as tough and durable.
The decision to switch to an aluminum body is quite a gamble for the Dearborn, Michigan-based automaker. If Ford fails to convince its consumers that the aluminum F-150 is just as good as its previous incarnation, then the company could face severe consequences. Ford is already predicting a decline in earning for next year, an outlook that could worsen if the new F-150 doesn't sit well with buyers.
In an effort to change consumers' minds and demonstrate the toughness of the F-150′s new aluminum body, the automaker has recruited Alcoa (NYSE:AA), the company that manufactures aluminum blast shields for the U.S. military's combat and battlefield-bound vehicles, to lend it some of its military-grade, heavy-duty aluminum for Ford's Detroit auto show display. "It's already the most significant debut at the auto show," an analyst for IHS Automotive said in a statement, per Bloomberg.
The Ford F-Series is currently one of the most profitable motor vehicle lineups in the world, making the switch to an aluminum body a big one. In 2011, nearly a third of Ford's profit was generated by the F-Series. The truck has been America's best-selling vehicle since 1982 and America's best-selling truck for even longer.
The new fuel economy standards were introduced in 2011 by the Obama administration and require the U.S. fleet of vehicles to average 54.5 miles per gallon by the year 2025. The aluminum F-150 model due to come out in 2014 will boast an approximately 25 percent increase in fuel economy over previous steel models, The Wall Street Journal reports, pushing the model's average to approximately 30 miles per gallon.
More from Wall St. Cheat Sheet: