Ford's Focus EV: Nothing But a Niche Product?

"My hunch is they do not want to put a lot of effort into the Focus EV. It's almost like an obligatory vehicle they have to have for fuel economy and image. Ford's heart is not in this."
That is what Michelle Krebs, senior analyst at Edmunds.com, told The Detroit News in a telephone interview regarding the Dearborn, Michigan, automaker's plans for the Ford (NYSE:F) Focus, whose sales are lagging. Edmunds.com, a website that tracks vehicles consumers consider buying, said that just 0.55 percent of website visitors indicated in November that they would consider a Focus EV. That figure dropped to 0.19 percent in May, the same percentage of consumers that would potentially buy Nissan's all-electric Leaf. However, sales of Nissan's Leaf hit 2,138 in May, according to Autodata, while Ford has sold just 1,416 Focus EVs since the vehicle's December 2011 introduction, with the great majority of those sales coming after May 2012.
But still Ford will not be making any upgrades to its Focus Electric compact car for the 2014 model year, which is a sign that the company's only all-electric vehicle is struggling to maintain relevance. Its an unusual decision for the automaker to make as the company often adjusts vehicle packages and options on a yearly basis.
This move will do little to help the vehicle gain much-needed traction in the marketplace, especially since competitors are revamping their electric-vehicle lineups. However, there is some reasoning behind this course of action. Nancy Gioia, Ford's director of Global Electrification, told the publication that the Focus EV is a "niche" product, behind hybrids and plug-in hybrids, and that the company is happy with its current sales.
"We still see battery electric as niche," Gioia said, while at an electric vehicle conference in Washington. "We think that by focusing on the plug-ins and that awareness, we actually end up benefiting both the hybrids and the plug-ins."
Ford has a total of three hybrids — the Fusion, C-Max, and Lincoln MKZ (NYSE:GM) — as well as two plug-in hybrids — the Fusion Energi and C-Max Energi. But Gioia acknowledged that electric vehicles still have a few problems to be worked out, including range limitations, battery life, and charging infrastructure. "The batteries are still very expensive," she said. "The pay back period is still tough … BEVs are a hoot to drive. That is not the issue. The economic viability of it is."
The automaker does not believe that building more Focus EVs, which are manufactured on a flexible assembly line in Wayne, Michigan, will increase customer demand. Nissan's sales gains only came after the company dropped the base price on the Leaf by 18 percent to $28,800 for the 2013 model year; plus the car is eligible for a 7,500 federal tax credit. For comparison, the Focus EV has a sticker price of $39,200, before the same tax credit. Ford has offered slight discounts on the vehicle in the past, but the company has said it will not match the hefty price cuts employed by its competitors.
"We're not going to chase down to the lowest price possible — that doesn't make sense to erode the brand image or the true value of the product," Gioia said. Instead, Ford is going to "continue to evolve" the Focus. "We don't see the need to push it like crazy and erode the image of it," the Global Electrification director added.
Yet, hundreds of millions of dollars have been spent by Ford and federal and state governments to help the company boost its electric vehicle lineup.
Here's how shares of Ford have traded so far in 2013: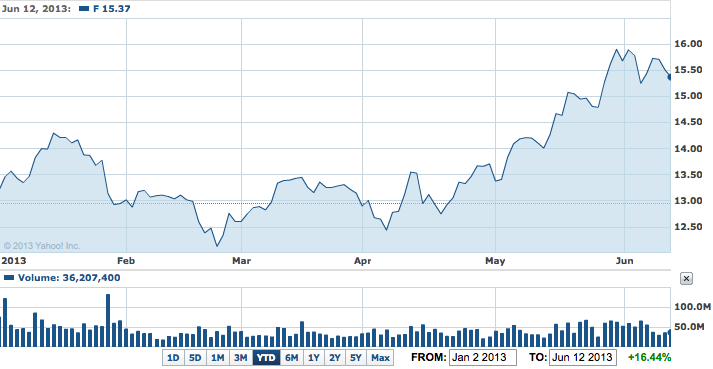 Follow Meghan on Twitter @MFoley_WSCS
Don't Miss: Is Ford's Mustang Still the Movie Star It Once Was?