Ford's New Edge Finds a Birthplace in Ontario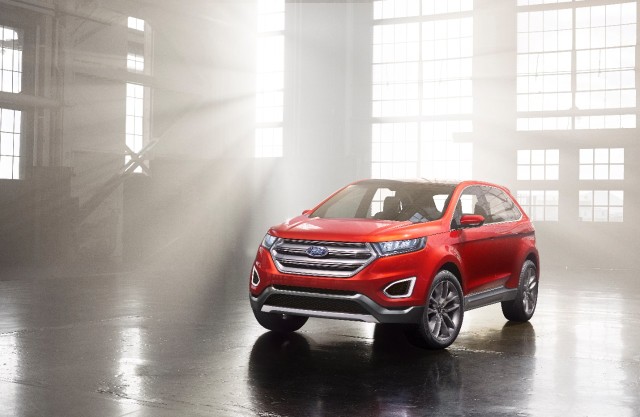 Ford's (NYSE:F) new Edge SUV, a member of the 16-vehicle onslaught being introduced in North America this year, will be manufactured in Ford's plant in Ontario, Canada, the company announced Thursday. From the facility in Oakville, it will be sent to some 60 countries around the world, including the United States.
About five months ago, Ford announced a 700-million-Canadian-dollar investment to improve the facility to allow it to produce vehicles on a global platform. Both the Canadian federal and Ontario governments are pitching in about 140 million Canadian dollars' worth of financial commitments to the efforts, the Globe and Mail reports.
Production of the new SUV will begin later this year; worldwide, Ford is launching 23 new vehicles, making for the company's busiest year in several decades.
The Globe reports that Ford's Oakville facility employs 2,800 people who produce the current generation of the Edge and its Lincoln sibling, the MKX, as well as the Ford Flex and Lincoln MKT crossovers.
Ford is likely aiming to take advantage of an agreement between Canada and the European Union, which allows duty-free access to the European market for about 100,000 Canadian-made vehicles annually, the Globe said. The publication added that the free trade arrangement is slated to begin coming into play in 2015 and that tariffs will be tapered off over time.

Last year, automakers exported about 13,000 vehicles to Europe last year but imported around 114,000, the Globe said, adding that Ford built 258,358 of the four crossovers (the Edge, Flex, MKX, and MKT) in Oakville last year, a 1 percent gain over 2012.
More from Wall St. Cheat Sheet: