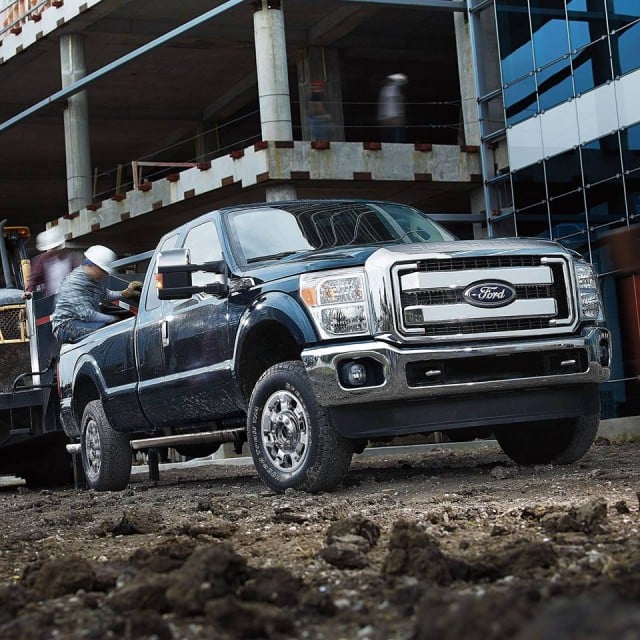 Ford's (NYSE:F) leading F-150 pickup — the best-selling vehicle in America — is being primed for release later this year, as is the new 2015 Ford Super Duty line. And while the F-150 has undergone an extensive redesign, the Super Duty is similar to the previous generation in many ways.
Visually, it hasn't changed much. The 2015 won't be getting the same cosmetic updates that the F-150 will be, but rest assured, Ford's been busy under the hood making sure the Super Duty can hold up to anything thrown its way. Ford said the optional second generation of its 6.7-liter Power Stroke turbo-diesel V8 will be packing more power than before, with 440 horsepower and 860 pound-feet of torque. That's an increase from the 400 horses and 800 pound-feet from the model year prior.
The F-450 — used almost exclusively by businesses, municipalities, and those who have really intense towing needs — now has a towing capacity to a best-in-class 31,200 pounds with a gooseneck hitch, Kelley Blue Book reported. That's an increase of 6,500 pounds, and 26,500 pounds with a fifth wheel. This means the maximum gross combined weight rating is now 40,000 pounds, 7,000 pounds more than the previous generation.
The F-350, a somewhat more pedestrian model, was given some similar improvements. Its maximum towing capacity is now 26,500 pounds, up from 23,200, and the gross combined weight rating is up by 4,500 pounds to 35,000, KBB said, thanks to a new high-capacity towing package with new front springs and a wide track axle.