Ford's Safety Net for a Chilly January at Home? China
As the winter chill took a bite out of domestic auto sales, China was the safety net that automakers were able to fall back on when North American sales didn't quite live up to expectations. For General Motors (NYSE:GM), the 12 percent dip in the U.S. was countered by a 12 percent overall gain in China; for Ford (NYSE:F), the sting of a 7 percent decline in domestic sales was lessened by a surge of 53 percent in the Asian country.
That equates to 94,466 wholesales in China, well surpassing the 61,567 units that it moved in January 2013. Commercial vehicle wholesales reached 21,868, a 28 percent gain in the same period, and passenger cars — accounting for the remaining 72,598, jumped 63 percent over the sales of 44,439 units for the same period last year.
The Ford Focus was an especially strong contender, Ford said in its press statement. The Fusion — known in China and other international markets as the Mondeo — sold 10,704 cars, up from 7,068. The Focus moved a significant 36,385 cars, up 8 percent over the year prior.
The Focus was also the top-selling nameplate in the passenger vehicle market in China in 2013. Given China's distaste for Japanese products, Ford and other international automakers have been able to make gains against other world leaders like Toyota's (NYSE:TM) Camry or Honda's (NYSE:HM) Fit and Accord.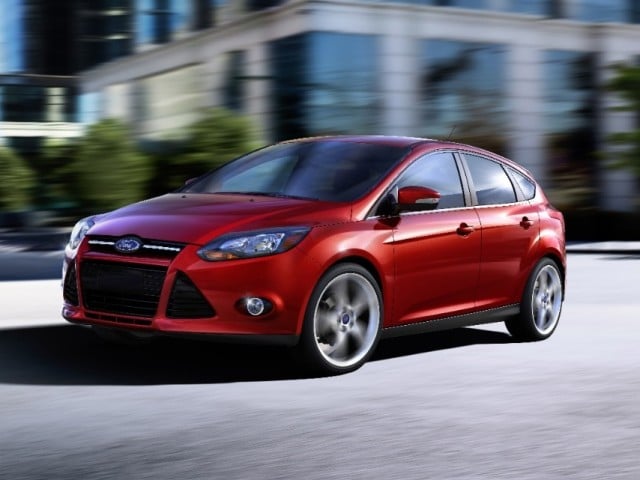 Changan Ford Automobile, Ford's passenger car joint venture in China, moved 70,038 vehicles in the month for a tidy gain of 62 percent from 43,269 sold during the same period last year. Additionally, Ford's commercial vehicle JV Jiangling Motors saw 21,868 vehicle sales, 28 percent above the 17,136 sold in January 2013.
Ford has yet to launch the Lincoln luxury marque in China, which it will be rolling out later this summer. There are high expectations surrounding the heavily anticipated launch, given the success that General Motors' Buick and Cadillac brands have found in the region.
More from the Wall St. Cheat Sheet: