Friday's Automotive Stock Roundup
Ford Motor Co. (NYSE:F): Ford will be investing $150 million into its plant in Buffalo, New York, in the stamping facility that is slated to make parts for the next-generation Edge crossover. The Detroit News reports that the money will buy 25 new sub-assembly stations to produce hoods, doors, and fenders, and more than 500 new dies plus equipment upgrades. The Buffalo plant, which opened in 1950, will see about 350 new jobs, hiking the plant's total employment to about 1,000.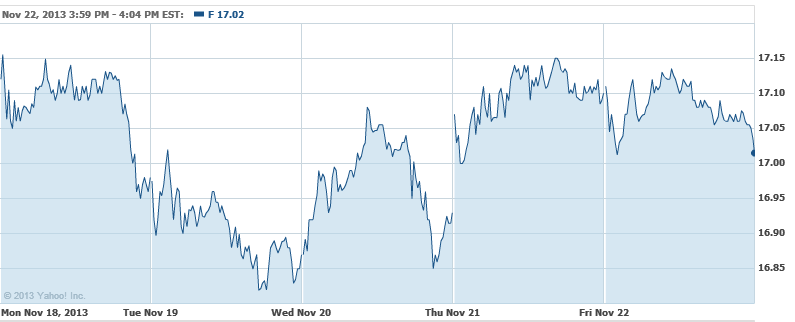 General Motors (NYSE:GM): GM will be offering a Black Friday sales promotion of its own spanning about two weeks on some of its most popular vehicles, enabling buyers across the country to purchase the vehicles for the same discounted prices that the company offers to the employees of its suppliers. The sale — which started on Wednesday — will run through December 2 and encompass the Buick, Chevrolet, and GMC brands, but excluded Cadillac.

Tesla Motors (NASDAQ:TSLA): Tesla executive and marketing guru George Blankenship, who spearheaded the company's retail operations and showroom expansions, has departed the company. Blankenship said he was retiring to spend more time with his family, including his four grandchildren. While he was still listed on the company's website as of Thursday, his personal profiles indicate otherwise; reportedly, Blankenship departed the company a few weeks ago.

Don't Miss: 8 Hot Cars & Trucks From the LA Auto Show.