GM Beats Out Ford and Toyota in Truck Safety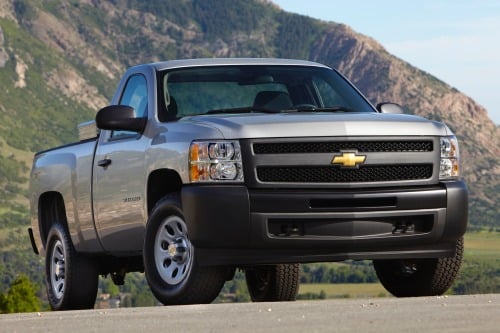 General Motors' (NYSE:GM) 2014 Chevrolet Silverado 1500 High Country and the GM Sierra 1500 Denali are the first pickup trucks to receive a five-star safety rating from the National Highway Traffic Safety Administration since the group's safety guidelines were updated in 2011.
Competing trucks — including Ford Motor Co.'s (NYSE:F) F-150, Chrysler Group's Dodge Ram 1500, and Toyota Motors's (NYSE:TM) 2013 Tundra — have all received four-star ratings in the NHTSA tests.
"GM's latest crop of pickups are not only more fuel-efficient than the generation they are replacing, they're now officially the safest trucks available on the road today," Alec Gutierrez, senior analyst at Kelley Blue Book, told the Detroit News. But, Gutierrez warned that the improved safety rating doesn't necessarily guarantee sales for GM as truck buyers have intense brand loyalty and will often choose towing capacity over safety. "Don't expect to see the Silverado and Sierra leapfrog the F-Series based on safety alone," Gutierrez said.
Historically, safety hasn't always been a priority in the building of pickup trucks, which have lagged behind in safety features compared with other large vehicles like SUVs. Some of the additions GM made to the Silverado and Sierra include backup rear cameras, extra airbags, and new lap belt pretensions in the  front seat belts.
The trucks now have a total of six standard airbags and reinforced steel frames. Optional safety features include forward-collision alert, lane-departure warning, and a safety-alert seat.
GM has also been stepping up its game in small cars, extending and expanding a dealer bonus program to continue pushing sales of the popular Chevrolet Cruze. The stair-step program, which rewards car dealers for reaching factory-set thresholds, includes 2013 and 2014 Impala, Camaro, Cruze, and Sonic as well as 2013 Malibu models. Cruze sales grew 70 percent in July, outselling Toyota's popular Corolla.
Before the NHTSA tightened its guidelines, 87 percent of trucks got four-star ratings for side impacts and 95 percent got five-stars for frontal collisions. However, after the rule changes, only 20 percent of 2013 models got five-star marks for rollover tests, according the the Detroit News report.
Even if GM's trucks don't sell based on safety alone, the changes made to the Silverado and Sierra models could push rival automakers to start more seriously thinking about safety in their pickup trucks.
Follow Jacqueline on Twitter @Jacqui_WSCS
Don't Miss: Old Problems, New Products: Ford Engineers Have Their Hands Full.