GM Breaks the Mold for This Top Honor
Although Ford (NYSE:F) has been grabbing the spotlight recently for the F-150′s performance in PickupTrucks.com's light-duty shootout, General Motors (NYSE:GM) hasn't exactly been sitting around idle, either. After years of struggling behind imported cars that have — before now — consistently ranked well above the Detroit-based automaker in overall quality and reliability.
For the first time, GM
The general decrease in quality over 2012 is attributed by J.D. Power to flaws at the design level, that cannot be remedied at a dealership level. The current generation of infotainment systems and high-tech gadgetry was the chief source of problems for new cars.
However, technology aside, the general build quality of vehicles has indeed improved. "Manufacturers are doing a lot better when it comes to engines and chasses and other mechanical systems," explained Dave Sargent, the head of automotive research for J.D. Power and Associates. "Most of the problems people are now reporting involve the latest technology."
The survey of 83,000 participants concluded that two of every three problems encountered were tech-related. Though this includes components used in the car's construction, such as electronic suspensions and cruise control systems, the vast bulk of the issues stem from the peripheries, such as the infotainment systems and their shortcomings with user interfaces.
Below, J.D. Power breaks the rankings down by nameplate. GM's GMC line falls in second, just behind Porsche, while GMC's sibling Chevrolet comes in fifth.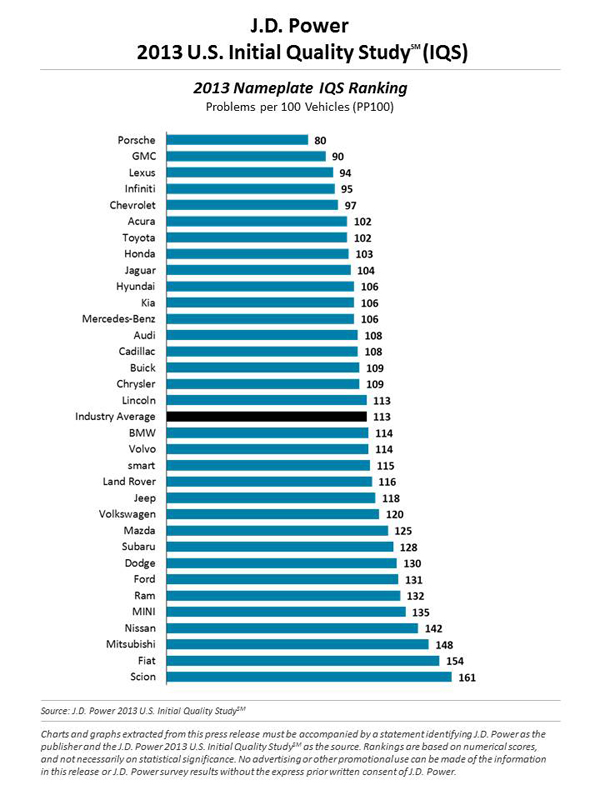 Moreover, GM was the only company on the list to average less than 100 problems per 100 vehicles, handily surpassing the traditional benchmark brands under Toyota (NYSE:TM) and Honda (NYSE:HMC), which have been struggling to maintain their firm grip on the quality front. "GM (also) gets more individual model awards than anyone else by a wide margin," noted Sargent, "eight out 26 when no one else gets more than three."
On average, the PP100 — problems per 100 vehicles — fell at 113, substantially higher than the 102 average from 2012. While the top five places are generally reserved for luxury brands, the fact that GM was able to penetrate the highest slots in amazing in and of itself, J.D. Power notes.
Don't Miss: Chrysler Puts Defiance Aside and Issues Recall.