GM Reviving Old Strategy: A Car for Every Purse and Purpose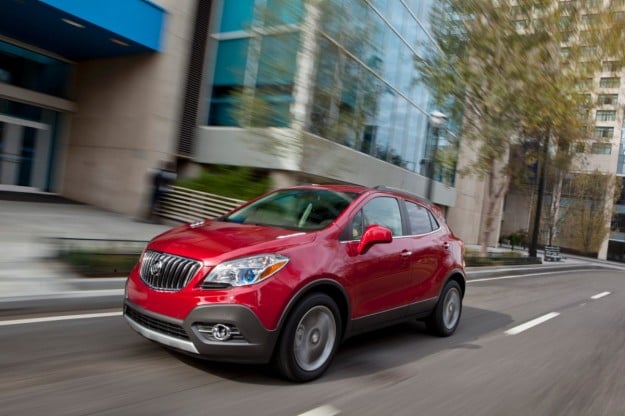 General Motor's (NYSE:GM) operations in Europe — led by the Opel and Vauxhall brands — have lost more than $18 billion since 1999, putting quite a drag on the automaker's finances. However, with the European car market is showing the first signs of improvement and the emergence of signs indicating that the recession in the euro zone is coming to an end, GM Chief Executive Officer Dan Akerson is planning to do more with the brand.
By keeping costs down, he believes a profitable niche can be carved out between the upscale Cadillac and mass-market Chevrolet, the company's global brands. Sold in Europe as an Opel Mokka and in China and the United States as a Buick Encore, the small sport-utility vehicle is emblematic of how GM is refocusing its efforts. The automaker wants to be able to stem losses in Europe, boost margins in North America, increase sales in China, and create vehicles that suit various regional tastes — all by the middle of the current decade.
The smaller SUV is better suited for the congested streets of large European, Chinese, or even American cities than its larger peers. Not only that, but if falls in the middle ground, in terms of price, between Chevrolets and Cadillacs.
"This Buick-Opel guiding principle of similar if not identical vehicles is the right thing to do," Jim Federico, a GM executive director in product development, told Bloomberg last month in an interview. "It makes it extremely clear for brand identity for Chevrolet and Cadillac and these can fit nicely in the middle."
By this, Federico means "similar if not identical vehicles" can be repurposed across several regions whose residents are looking for similar specifications and this utility separates the vehicles from the other brands in GM's lineup, giving them their own brand identity while also helping the company to reduce costs.
Therefore, both these "flanker brands" as Akerson has termed them, are key building blocks of GM's expansion plan — which includes growing both profit and sales — in Europe and China. In Europe, in particular, operations are being revamped. GM is cutting costs, closing an assembly plant, and introducing new models, like the Opel Mokka.
The Opel Mokka and the Buick Regal, which went on sale in January in the United States, are about 90 percent the same, according to Federico. "What we're trying to do is bring together the product development team much more closely," explained Akerson at an investors conference in June. "It'll be all sorts of synergies, I believe, between Opel-Vauxhall and Buick," giving GM more scale and cost savings.
GM has tried to leverage the synergies between Opel and Buick before. The Buick Regal, a compact sedan, is sold as the Opel Insignia in Europe where it won Car of the Year in 2009.
However, this strategy could be held back by regulatory problems. Vehicles that may sell well in one region may not be able to transition seamlessly into another region. For example, the new Adam minicar and Cascada convertible, both sold successfully in Europe under the Opel brand, cannot be sold in the United States just yet because they were not engineered to be compliant with U.S. safety requirements, Akerson told Bloomberg. The challenge is "probably the most complicated Rubik's Cube, if you will, within the company right now," he added.
GM's new strategy is reminiscent of the philosophy of "A Car for Every Purse and Purpose" developed by Alfred Sloan, a long-time president, chairman, and CEO of GM in the early- to mid-20th century, John Wolkonowicz, an independent consultant and historian, told Bloomberg.
Through this, 35,622 Encores were sold including 12,252 in the United States, according to GM, while Opel has received about 10,000 Mokka orders since October 2012 when it went on sale. The Encore even won an award in J.D. Power & Associates survey of owner satisfaction with recently purchased vehicles.
It has also received praise from the critics. The Wall Street Journal's Dan Neil wrote that the Encore "turns out to be pretty darn adorable, an elfish voyager on urban seas, small but smart."
Follow Meghan on Twitter @MFoley_WSCS