GM Sales and the Pickup Price Puzzle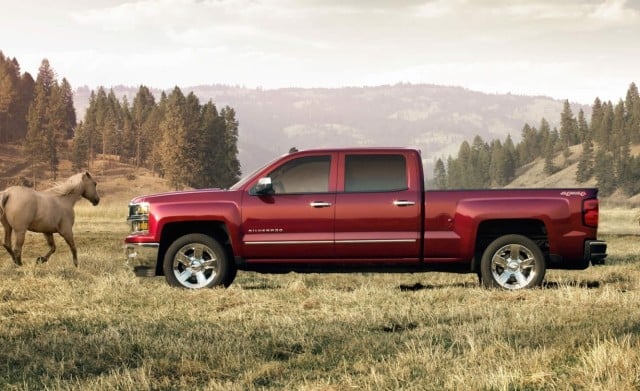 In June, NPR made passing mention on air of a pamphlet circulating in Paris, intended to help Parisians understand foreign visitors. Americans, the pamphlet explains, like to know prices are fair. This "getting a good deal" mentality is what some in the car industry believe is behind recent price increases by General Motors (NYSE: GM).
Vehicles affected by the change are the 2014 Chevrolet Silverado and the GMC Sierra full-size pickup trucks. Dealers learned the pickups were getting a price pick-me-up on October 7, according to Reuters. The price of each vehicle will be raised 6 percent, or $1,500, which is also the amount of money buyers can receive through cash-back incentives if they buy before the end of october. Reuters further reported that analysts believe the trucks and their respective SUVs net a profit of $12,000 per vehicle for General Motors.
The incentives being offered so quickly after the price hike was announced struck some as a gimmick. Speaking with The Detroit News, Michelle Krebs, a senior analyst at Edmunds.com, said, "They can raise the price, but by having an incentive, it looks like they're still offering a deal against the competitors."
Kelley Blue Book's senior director of insights, who was also interviewed by The Detroit News, agreed, calling the price reduction a way to "give them a marketing message." Karl Brauer said it's a push the company needs to be able to make after being knocked down in sales by Ford (NYSE:F).
The Wall Street Journal compared September sales of Ford's 2013 F-series models to GM's 2014 Silverados and Sierras. It was no contest: Ford won, 60,456 units to 45,944. Ford has been touting discounts up to $9,000 and has not released its 2014 model yet. Given the option between last year's Ford and this year's GM, consumer purchasing power spoke loudly for the 2013 Ford.
When GM delivered its September sales results at the beginning of October, company executives acknowledged that for the month, sales were down 11 percent compared to September 2012. It's not all bad news for the company, though — according to Bloomberg Businessweek, the transaction price per truck is up, on average, $3,000 this year.
The Detroit News cited a previous conversation with Mark Reuss, GM's North American president, in which the publication asked him about the Ford incentives. He said General Motors was not going to offer thousands of dollars in incentives because "[w]e've got a great truck." Reuss said he preferred to "take my lumps for a month."
With the results of Ford's strong performance so clearly laid out, you have to wonder if he thought he'd have to take that many lumps. Either way, it certainly appears that GM is now trying to assure its customers that the prices are fair.
Don't Miss: 9 Automobiles Set to Dazzle at the L.A. Auto Show.