GM's Akerson: Comeback Story Is Just Beginning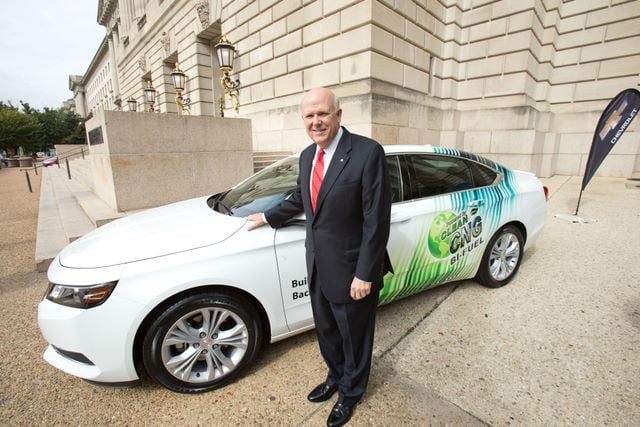 During the last few weeks as the CEO of America's largest automaker, General Motors (NYSE:GM) CEO Dan Akerson took an opportunity to speak in defense of his time at the helm of GM, and noted that his successor — the current Executive Vice President of Global Product Development, Purchasing, and Supply Chain — will have to build upon the turnaround that the automaker experienced under his command.
"We had to remedy decades of poor decisions and indecisions and 'no decisions' that started to pile up in the 1970s and '80s like so much rotting firewood," Akerson said in a statement given at the National Press Club in Washington. "We have been fixing the plane while it's in the air." He noted that the 39-day "quick rinse" bankruptcy only enabled the company to fix its balance sheet, and the company is still in the "early chapters" of its turnaround effort. Akerson also pointed out that Barra will not have an easy job continuing GM's success, Reuters quoted him as saying.
Now that the Federal Treasury has exited its 60-plus percent stake in the automaker after its 2009 bailout, Akerson says that it should be smoother sailing, since there won't be the kind of government oversight that was present for the last four years or so. "The end of the 'Government Motors' era has cleared the runway," Akerson said. He added that at the time, GM suffered from out-of-control costs, wasteful complexity, and diminished quality, and had lost sight of its customers.
Akerson also took the opportunity to make some pokes at its domestic rivals, namely Ford (NYSE:F), though Tesla (NASDAQ:TSLA) was mentioned also. He noted that Ford was still paying back its federal "green" technology loan, as to imply that Ford is still indebted to the government, and its obligations are now more than those of GM.
If the $10 billion or so tab that GM racked up with tax payers is taken into account (owed to the shortcoming of the government's return on its GM stake sale), though, Akerson's tune would likely have sound a bit different. However, the bailout terms did not require that GM had to repay the shortfall.
When pressed about the recent vehicle fires that prompted an NHTSA investigation of Tesla's Model S, Akerson replied by bringing up the situation that GM encountered with the Chevy Volt, which experienced some fire issues of its own. He noted that GM initiated some vigorous testing on the units, offered to buy them back, provide replacements during testing and then made improvements, Reuters reports. "The fact is that we handled it so much differently than other car companies," he in his statement. "I have no comment about what Tesla should do."
Don't Miss: EPA: Car and Truck Efficiency Sets a New Record.