GM's Halftime Report: Global Sales Up 4 Percent

General Motors (NYSE:GM) continues to grow its global sales footprint, putting the automaker in a good position to steal the global sales crown from Toyota (NYSE:TM).
This year, the No. 1 U.S. automaker has been especially busy. Not only has it managed to turn its momentum around after an embarrassing government bailout, it has also resurrected impressive sales success and even managed to rejoin the Standard & Poor 500 Index earlier in May. Now, GM's first-half global sales figures illuminate why the car manufacturer has also been tied up overseas: It has been busy selling more than 1.92 million cars and light trucks.
Reuters reports that in the first six months of the year, GM's global sales rose almost 4 percent in international operations including China and North America. This coincides with the 7 percent rise in demand that GM witnessed in each of its two largest regions. So although the U.S. car manufacturer has been combating slipping sales in Europe, GM has been working to effectively outweigh these losses with other regions' success, especially those in China.
China, the world's largest auto market, has always been a heated battleground for rival automakers. GM and Volkswagen AG have competed there for the status of the world's largest automaker. A new sales report last week, though, showed that GM was pulling ahead of Volkswagen in the rat race, posting first-half sales in the country totaling 1.57 million deliveries while Volkwagen mustered a slightly lower 1.54 million.
Those numbers push GM ahead in the Chinese auto market, now the largest industry since surpassing the U.S. earlier in the month. It's also believed that the demand for GM trucks and cars in China will remain on the rise, illustrating that the Chinese market will continue to be the U.S. automaker's largest despite the recent revival of the American automotive market.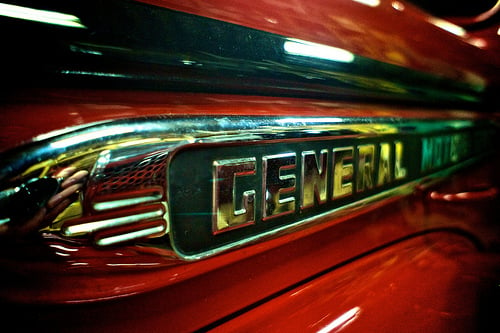 GM's international operations unit, which includes China, saw a first-half sales rise of 7 percent to almost 1.92 million vehicles, while sales in North America jumped 7.7. percent to more than 1.64 million vehicles. The opposite trend occurred in Europe, as sales fell 6.5 percent to more than 797,000 vehicles and decreased 1 percent in South America to 497,000.
GM now has its sights set on Toyota. The Japanese automaker has yet to release its first-half global sales figures, but it boasted the highest global sales — 9.75 million — last year, affording it the opportunity to take back the title of world's largest automaker from GM, which posted 9.28 million in sales. Toyota has long been the king on top of the global sales throne that automakers have been gunning to displace. The company wore the crown from 2008 through 2010, lost it in 2011, and regained it in 2012.
Though we'll have to wait until the end of the year to witness the crowning of 2013′s king, GM is hopeful that its impressive sales will warrant it a victory. The automaker has Chevrolet to thank — that brand alone had a 1.4 percent rise in first-half global sales, selling 2.5 million cars and trucks.
Don't Miss: Tesla Low-Balls Roadster Battery Life, Model S to Follow?