Here Is How Cadillac Wants to Change Customers' Perception Lag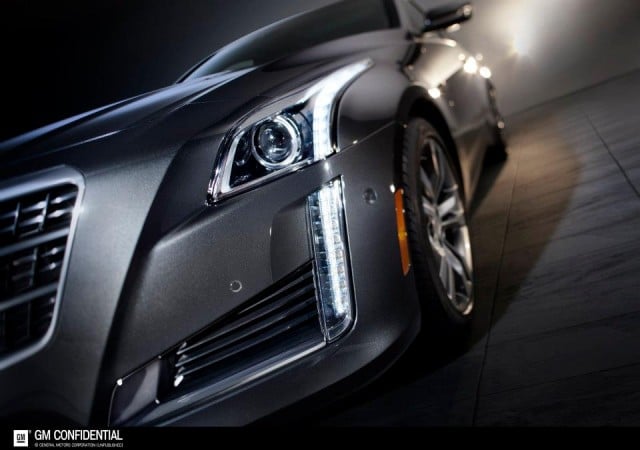 Leading General Motor's (NYSE:GM) efforts to secure a bigger share of the luxury car market is the all new 2014 Cadillac CTS, a vehicle that appears to be positioning itself as America's answer to Bayerische Motoren Werke's BMW. No company executive would admit to drawing inspiration from one of its main competitors, but like many other Japanese and European brands, the Cadillac has modeled its dimensions on the 3 Series and 5 Series. In the vehicle's lines, the same balance of power and finesse seen in the BMW are evident.
After the debut of the 2014 Cadillac CTS at this year's New York Auto Show, vehicle valuation company Kelley Blue Book wrote in its review that the new vehicle was "both more upscale and more gangster at once" than the previous model, noting that "this pivotal mid-size luxury sedan brings a new look, new technology and new attitude to the automaker's lineup as it goes after buyers who might otherwise be pondering cars like the Audi A6, BMW 5 Series, or Mercedes-Benz E-Class." As the second oldest American automobile brand, following behind GM marque Buick, Cadillac has a storied history. Founded in 1902, it was acquired by GM in 1909, and on its way to mass production shortly thereafter. Cadillac quickly became the country's premier luxury brand, producing its one millionth car, a 1950 Coupe de Ville, in 1949.
But after a string of unpopular cars and growing foreign competition, the Cadillac quickly became stereotyped as the large, ugly, and poorly manufactured vehicle with bad handling driven by retirees. However, the restructuring that followed GM's Chapter 11 bankruptcy in July 2009 was a dose of harsh medicine, and the automaker swallowed it, cutting wages and jobs, and improving efficiency to be better able to meet changing consumer demands. The result was a smaller and more competitive company — a company that produced the CTS, a pivotal model leading Cadillac's own turnaround. Cadillac is now ahead of its rivals in implementing the power and finesse of the BMW.
Still, there is problem. Former BMW executive Uwe Ellinghaus, who was hired by GM to help Cadillac become a global brand, told the Detroit News that the luxury automaker lacks personal relevance, and that is an obstacle it must overcome to be successful. As chief marketing officer for Cadillac, his job is find a global platform capable of winning over a global audience. While the brand is sold in more than 40 countries, approximately three-quarters of its sales are made in the United States. China is the country essential to GM's growth plans, and the target is to increase Cadillac sales threefold by 2015. If the automaker's plans come to fruition, Cadillac will be its second global brand behind Chevrolet.
According to Ellinghaus, the brand has many assets — its distinctive design, great products, passionate staff, and its customer value. The problem is that those assets don't resonate with enough people. "They say 'nice brand, but maybe not for me,'" explained Ellinghaus to the Detroit News. What the company's new marketing chief will need to do, once he officially begins work on January 1, is to creating a marketing campaign that explains why Cadillac's vehicle lineup is the right choice for its desired customers. In particular, advertisements need to be sophisticated and communicate more emotion rather than a list of product attributes. "This brand has the potential to be a global premium brand," Ellinghaus said.
A majority of automobile analysts have given new Cadillac's favorable reviews, noting the brand has better products than in the past and greater momentum. As recently as last week, the 2014 Cadillac CTS — which is just reaching dealership showrooms — won Motor Trend's Care of the Year Award. Kelley Blue Book analyst Karl Brauer has even said Cadillac is manufacturing its best vehicles ever. But he too believes the brand needs to create a more powerful marketing message. "For too long they had powerful marketing messages, but weak product," he told the Detroit News in an email. "Now the product is worthy of a bold marketing plan that declares Cadillac as a world-class luxury brand. If Cadillac can successfully send that message, and get people into its cars, the product will back it up."
Cadillac is in the process of reinventing  itself, as GM North America President Mark Reuss told Detroit New reporters Friday at an employee celebration recognizing its Motor Trend award for the CTS. "We've got some perception lag of what Cadillac is and what Cadillac can do," Reuss added. "So I don't expect us to go out and be No. 1 in segment on a car like this in six months." But, he said the brand is will to work for its customers. "We cannot come in with cars that we don't win with. And that's the first step, is the cars," he concluded.
Analysts also have another critique; Cadillac needs more products in its line up to compete with the BMW 7 Series and Daimler's (DDAIF.PK) Mercedes-Benz S-Class. GM's Cadillac efforts have begun to bear fruit. Global sales have grown 30 percent this year, and a total of 148,206 vehicles have been sold in the United States through October, a 26.7 percent increase from the same period in 2012. However, both Mercedes-Benz and BMW topped the charts, selling 245,125 vehicles in the U.S. through October and 240,139, respectively. Toyota's (NYSE:TM) Lexus sold 213,479 vehicles.
Follow Meghan on Twitter @MFoley_WSCS
Don't Miss: 5 Top Green Cars to Buy in 2014.