Here Is Why Ford's Executives Are Shifting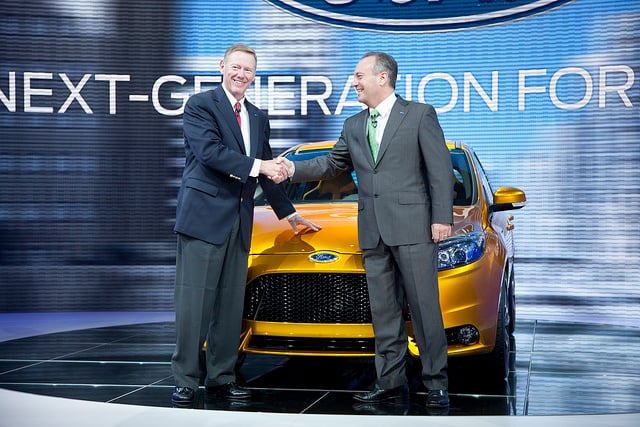 Chief Executive Officers, much like parents, can't be around forever. Ford Motors (NYSE:F) is preparing for when its present CEO Alan Mulally eventually departs by promoting some of its younger executives up the corporate ladder after the new year. According to Reuters, over ten of Ford's twenty senior executives have been replaced since 2012.
Moray Callum is just one executive to benefit from restructuring — at 54, he will replace the soon-to-retire J Mays in the position of global design chief. "The bold and sophisticated design language that J Mays pioneered will be visible for years to come in Ford vehicles and the auto industry overall," said Mark Fields, the newly named chief operating officer at Ford. The heads of labor affairs and North American manufacturing will also be replaced, and an additional corporate officer will be added.
With Mulally leaving, the most likely to replace him seems to be Chief Operating Officer, Mark Fields. "There's a real clear change in leadership that's occurring here. I think it will play out that Mark will be the next CEO and I think he's assembling his team," said Matthew Stover, an analyst with Guggenheim Securities. Mulally has said a number of times that he plans on keeping to his promise of staying until the year 2014 has run its course.
According to Reuters though, people familiar with the matter have suggested the automaker's present CEO might consider leaving earlier if career choices are floated in his direction. Mulally is credited with the major shift in Ford's strategy that led to a company upswing following the company's financial crash in 2009. "This is a huge change. It covers manufacturing, labor relations, and design. All of these are core characteristics of the entire company," Dave Sullivan, automotive analyst with Auto Pacific, told the Detroit Free Press.
Don't Miss: 8 Awesome Cars & Trucks on Display at SEMA 2013.