Here's How Electric Cars Overcame Age-Old Hurdles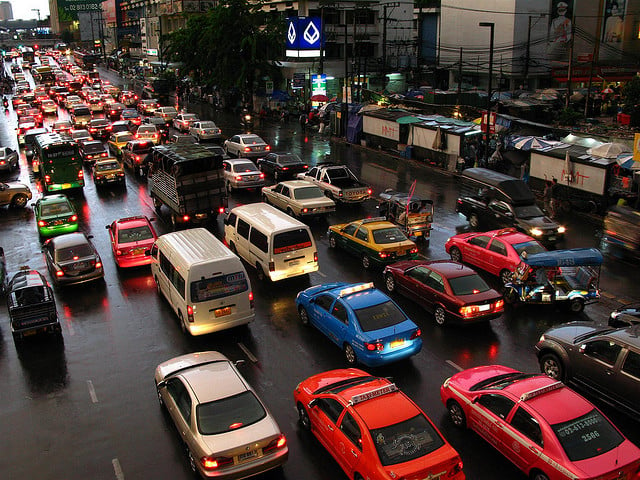 The first electric vehicles were invented back in the mid-19th century and actually held the land speed record until around 1900. By the turn of the century, 40 percent of American automobiles were powered by steam, 38 percent by electricity, and 22 percent by gasoline. But sales of electric cars peaked in 1912 as new roads nationwide, domestic oil discoveries, and new combustion engine innovations made gasoline-powered cars the vehicles of choice for the next century.
The consequences of these trends have become apparent transportation is the single largest source of air pollution in the United States. In fact, carbon dioxide emissions amount to approximately one million tons per day, which is double the emission from worldwide volcano activity. While efficiency improvements in gasoline engines have helped improve these metrics, these problems remain severe both in the U.S. and increasingly around the world.
Economics Favors Electric Vehicles
Despite their historical range and speed limitations, electric vehicles operate at about 90 percent efficiency given their instant power through torque, compared to 30 percent efficiency with most gasoline-powered vehicles, due to heat, friction, sound, and pollutants. These attributes suggest that electric vehicles will eventually outperform gasoline-powered vehicles when it comes to cost and performance battery technologies simply need to catch up.
The invention of the lithium ion battery by M.S. Whittingham, ironically while working for Exxon Mobil (NYSE: XOM), helped bridge this gap. Compared to traditional lead-acid batteries, the lithium ion variety offers one of the best energy densities, no memory effect, and only a slow loss of charge when not in use. These dynamics equate to improved range, enhanced rechargeability, and a long-term charge when it comes to electric vehicles.
New battery technologies could significantly improve upon this performance. For example, lithium iron phosphate batteries offer high energy densities, but longer life, better power densities, and an inherently safer performance.
These batteries are already being provided by companies like Balqon Corporation (OTCBB:BLQN) in the heavy-duty commercial electric truck and bus space where both power and range is needed.
Tesla Makes Consumer Breakthrough
Electric vehicles have experienced a number of headwinds hindering their adoption among the general public. First, they have historically experienced limited range with little infrastructure to recharge mid-way through a long journey. Second, many electric vehicle manufacturers have been hesitant to invest billions in developing a technology that consumers have been apprehensive about purchasing, making equity markets less receptive.
Tesla Motors Inc. (NASDAQ: TSLA) has largely solved both of these problems with its Tesla Model S. In addition to achieving the highest Motor Trends rating ever, the consumer electric vehicle can travel up to 265 miles on a single charge, accelerate from 0 to 60 in just 4.2 seconds, and swap batteries at stations. Meanwhile, Tesla became the first EV pure-play to successfully commercialize the technology with CEO Elon Musk projecting profitability in FY 2013.
The companys stock performance has been nothing short of astounding either, jumping more than 424 percent so far this year. With a market capitalization of about $22 billion and sales of just $1.3 billion in the trailing 12 months, there is a heated debate within the financial community of just how much the stock is worth. But regardless of its valuation, theres little doubt that the company is here to stay, particularly as it transitions to profitability over the long-term.
Targeting Commercial EV Applications
Commercial vehicles represent another key sector that could be revolutionized by electric vehicles. In President Obama's June 2013 Climate Action Plan, he noted that heavy-duty vehicles represent the second largest source of greenhouse gas emissions in the transportation sector and outlined new efforts to curb their emissions. Many companies are already struggling to meet the original 2011 standards and could find the 2018 guidelines much more difficult.
These trends could make electric drive trains a logical choice, especially for short distance heavy-duty trucking applications such as shipping yard transportation or short-haul drayage equipment. Companies like Balqon Corporation (mentioned above for their lithium iron phosphate innovation) are already targeting these end markets. For instance, its Nautilus XRE20 is an off-highway electric yard tractor with a 30-ton capacity that operates 12 hours on a single charge.
In addition to heavy-duty end markets, fixed routes represent another key potential market for electric vehicles. Companies like United Parcel Services (NYSE: UPS) and FedEx Corporation (NYSE: FDX) could use electric vehicles to lower their operating costs, reduce emissions, and ultimately improve their profit margins and public image. In fact, FedEx has already integrated over 40 EVs and 300 hybrid vehicles into its fleet, while UPS has similar efforts ongoing.
There's little question that electric vehicles offer better economics than gasoline-powered vehicles when looking at efficiency. But the high acquisition cost, limited range, and lack of charging infrastructure has kept EVs from becoming an automotive mainstay. These barriers are rapidly falling, however, both in the consumer and commercial EV space as battery technologies improve, costs begin to come down, and acceptance rises.
While the industry is certainly at an early stage in its development, automotive investors may want to consider building at least some EV exposure into their portfolios, since the automotive sector is already embracing these changes. Companies like Tesla and Balqon provide pure-play opportunities, while traditional automotive manufacturers like Toyota Motors (NYSE: TM) and Ford Motor (NYSE: F) have also been developing their own EV lines.
Originally written for SECFilings.com, a leading provider of SEC filings, real-time alerts, and in-depth analysis, with a team of experienced financial writers that cover quarterly/annual reports, insider trading/hedge fund activity, and IPOs, spin-offs, and other disclosures of interest identified from time to time within documents filed with U.S. regulatory agencies. SECFilings.com may be compensated for its services in the form of cashed-based compensation or equity securities in the companies they write about, or a combination of the two. For a full disclaimer, click here SECFilings.com/disclaimer.aspx.
Don't Miss: 5 SUVs Waiting to Challenge Cadillac's New Escalade