Here's How Tesla's First Profitable Quarter Turned Out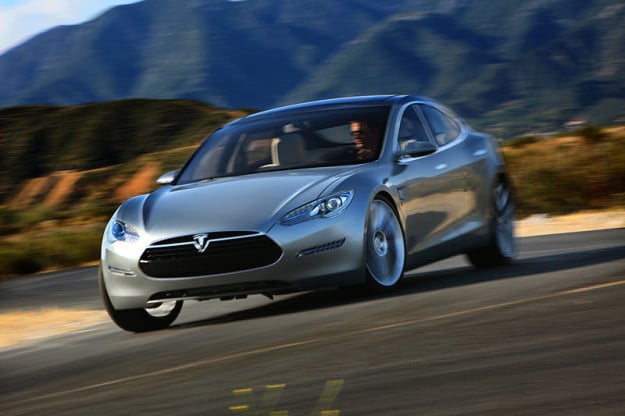 Tesla's (NASDAQ:TSLA) stock has been trudging upward slowly so far this year, but shares of the electric vehicle manufacturer received a jolt Wednesday afternoon after reporting its first profitable quarterly results. Following the earnings release after markets closed, shares soared as much as $16.39, or 29.39 percent, to $72.18 in after-hours trading.
After hitting an all time of $62.37 per share earlier this week, expectations were set high in preparation for what Chief Executive Officer Elon Musk promised would be Tesla's first profitable quarter. And it was. Excluding certain items, first-quarter earnings came in at 12 cents per share as the company was able to exceed its targets for vehicle deliveries and boost profitability. A year earlier, the company reported a loss of 76 cents per share.
Revenue climbed to $562 million, from just $30 million in the year-ago quarter.
Comparatively, analysts polled by Thomson Reuters had expected the company to report a profit of 4 cents on $500 million in revenue.
A higher Model S production rate, manufacturing efficiencies, part-cost reductions, and regulatory credit sales boosted the company's total gross margin to 17 percent from 8 percent in the fourth quarter. While the company has acknowledged there is more work to be done to improve Tesla Model S margins, Tesla said that it has "a clear roadmap to achieve component cost reductions, as well as achieve additional manufacturing and logistics efficiencies." The company expects its second-quarter gross margin to be in the high teens.
Regarding production, Tesla has estimated that it will exceed its prior target of 20,000 worldwide deliveries for the year and raised its guidance to approximately 21,000 deliveries, a figure 9,000 below what the company believes is global demand.
Tesla hit a huge target this quarter, but the company has set down an incredibly ambitious plan for the future. According to documents prepared for Tesla's upcoming annual meeting, Musk was given an equity and stock grant package — named the "2012 CEO Grant" — last summer, which will deliver him another 5 percent of Tesla's total shares if the electric car manufacturer meets certain milestones and a particular market capitalization. The first tranche of the grant will be available if Tesla's marketcap hits $7.2 billion and one of its operational goals is met. The remaining portions of the grant will become available every time another $4 billion is added to the marketcap, along with an additional operational milestone. The ultimate market capitalization target is $43.2 billion. In comparison, Ford (NYSE:F) and General Motors (NYSE:GM) have marketcaps of $53 billion and $40 billion, respectively.
The company's operation milestones are: the successful completion of the Model X Engineering Prototype, the completion of the first Model X Production Vehicle, the successful completion of the Gen III Engineering Prototype, the completion of the Gen III Vehicle, a gross margin of 30 percent or more for four consecutive quarters, and the aggregate vehicle production of 100,000 vehicles, then 200,00 vehicles, and finally 300,000.
You can follow Meghan on Twitter (@MFoley_WSCS) for the latest industry news.
Don't Miss: Is Tesla Made of More Than Just Green Credits?