Here's How Toyota Is Raining on Ford's Hybrid Parade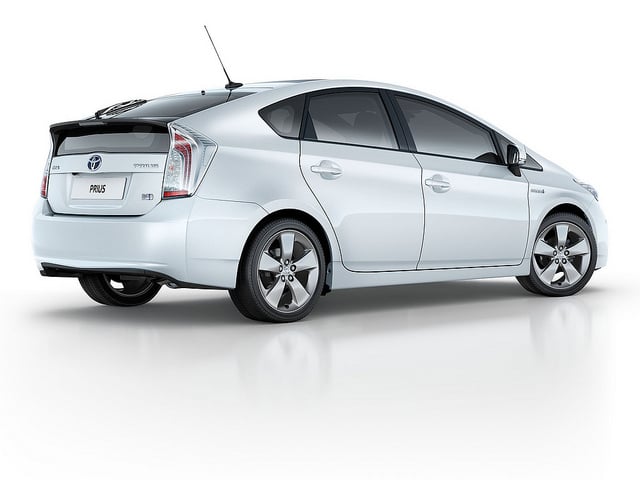 Not so fast, Ford (NYSE:F). Toyota (NYSE:TM) is pumping the brakes on Ford's hybrid party, because although the U.S. automaker has taken great pains this summer to show its rising dominance in the hybrid market, Toyota is making sure Ford knows its place in the game and is ready to offer conclusive reports to prove it.
Ford is rising in the ranks in the hybrid market, and it is effectively serving Toyota with a little more healthy competition than it would like. The Dearborn, Michigan-based company has grown its share in the hybrid segment by 12 points, and it has also been especially vocal about which vehicle it has to thank as it accepts its trade-ins in — Toyota's Prius, of course.
That would make sense, because the Japanese automaker has reported a 5 percent drop in new Prius sales, illustrating why Ford has had so much success selling its own hybrid vehicles while consumers trade in their old Priuses. But before the U.S. automaker can get too excited, Toyota is ready to offer it some sobering reports are sure to rain on Ford's new parade.
Autoblog reported Wednesday that Toyota said six out of 10 hybrids sold in California are Toyota models. And just to turn the knife a little more, through May, Toyota sold five times more hybrids than Ford.
Still, Toyota can't deny that Ford's hybrid influence is growing. While the U.S. automaker's success in the electric market is just getting started, Toyota's best days may even be behind it as it watches new rivals crop up in a newly competitive market.
And Toyota also can't ignore the fact that Ford is finally figuring out a way to effectively whet coastal Americans' auto appetites again. While West and East Coasters used to rely on foreign automakers like Toyota and Honda (NYSE:HMC) to meet their auto needs, new reports show that more and more drivers are now turning back to Ford. Compared to figures five years ago, the U.S. automaker's share of the retail market has increased almost 2 percentage points on the East and West Coast.
Ford's impressive rollout of fuel-efficient cars has also finally garnered support in a California market that is notoriously cutthroat but critical to the success of U.S. automakers.
So although Ford is upping its game in the hybrid car market — announcing earlier in July that it is planning on improving the fuel economy for its 2013 Ford C-Max Hybrid, 2013 Ford Fusion Hybrid, and 2013 Lincoln MKZ Hybrid — there is still speculation over the state of real American interest in these hybrid vehicles. While Toyota and Ford will be sure to continue to battle it out, both automakers will also look to roll out other appealing features and vehicles that can better attract American buyers.
Don't Miss: 8 Highest-Ranking Sedans From the Last Two Decades.