Here's Where Most Tesla Model S Sedans are Parked and Why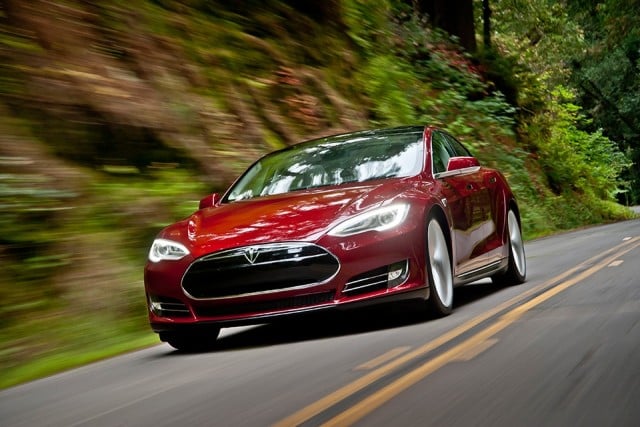 It's safe to say that Tesla Motors (NASDAQ:TSLA) has stolen a significant portion of the automobile spotlight this summer. Posting record gains, releasing impressive earnings reports, and topping $20 billion in market value, many consumers have all but gotten down on their knees to hail Elon Musk, the South African CEO and founder of the Tesla operation who has managed to turn things around for his electric car company, finally posting profits for the first time in 10 years.
Most of that attention swirls around Tesla's iconic Model S. The illustrious, albeit pricey sedan has won the hearts of many electric car consumers with its top safety ratings, lineup of awards, and customer satisfaction guarantees. Musk has been vocal about his 2013 sales goal for the sedan, and hopes to reach 21,000 deliveries by the end of the year.
Although many have applauded his efforts, it's also important to step back and recognize how limited of a figure that number really is. With U.S. consumers purchasing close to 4 million vehicles every quarter, it's hard to understand how Tesla can keep up if it only continues to roll out 5,000 units every three months.
Nonetheless, Tesla is still currently maintaining its position in the drivers seat, and the California automaker is confident it can boost its production efforts and eventually get on par with other U.S. car manufacturers. As of now, according to Bloomberg, Tesla has delivered about 12,700 Model S sedans, and the report helps elucidates where most of these are parked and why.
So far, Tesla's own stomping grounds in the Golden State are where most of the Model S vehicles are nesting according to the company's first half registrations. They report that 5,000 Tesla sedans were registered in California in the first six months of 2013 and that, don't forget, already accounts for half of Tesla's output right there.
California is a shining star for Tesla not only because it is the birthplace of the company, but also because many of the state's consumers are especially interested in the electric car market as well as wealthy buyers who won't scoff at the Model S's paltry $70,000-price tag. California consumers are known to be the guinea pigs when it comes to new technology and products, and their interest in the Model S has supported this generalization. In addition, they  enjoy the state and local subsidies that sweeten the deal.
Another crowd favorite for Tesla are the consumers who reside along the same coast in the state of Washington. Although California has more registered Model S sedans, if you account for the state's bigger numbers, you can actually see that Washington surpasses California with its Model S purchases in terms of density, as reported by Bloomberg.
Washington, then, has the highest ratio of Model S registrations relative to all other new passenger car registrations this year, evidenced by the report that in the first six months of the year, Washingtonians registered one Tesla for every 100 passenger cars while resident of the Golden State purchased 107 other cars for every one Tesla.
That says a lot about Tesla's West Coast consumer pool — and it also highlights where Musk must keep his focus if he wants to maintain his sales streak in the nation's borders. Washington, especially, is a hot spot for the Model S because the state's drivers are exempt from state sales taxes and emissions inspections on the vehicle, and they seem to be taking advantage.
Other than California and Washington, the other three regions with the highest Tesla density include Washington, D.C., Hawaii, and Oregon, thus not really following a clear geographical pattern for where Model S vehicles attract the most buyers. However, Tesla spokeswoman Shanna Hendricks does illuminate a clear sales trend that she explains her company has witnessed and analyzed.
Bloomberg explains that all five states with the highest Tesla density are recognized as "green-minded" places, and they also have the highest number of showrooms and service centers. Since the Palo Alto, California-based company only employs a direct-to-consumer sales strategy, the increased presence of showrooms in a state is especially paramount to Tesla's success.
For example, neither North nor South Dakota have a showroom within their borders and thus, between them, only three Model S sedans were registered by the end of June. On the other hand, both Honolulu and Washington, D.C. have showrooms on site and thus there, their customers also function as their salespeople.
More showrooms and service centers are no doubt popping up within the nation's states, as are the Tesla Superchargers. However, increased legislation and a handful of legal battles are also continuing to stand in the way of Musk's widespread success.
He and his team are continuing to roll out more and more Model S vehicles at a faster pace, but the company will still need to continue to boost production if it wants to establish itself as a force that's here to stay.
Like us on Facebook to get the latest from Wall St. Cheat Sheet right in your News Feed.

Don't Miss: New Chevrolet 2016 Corvette Will Have the Name, Price Tag, and Power.